Page 2 of 3
Additional Documentation
Several nice enhancements are available in Joomla! 1.5.4 including the Language Installation Improvements, new JA_Purity template, recently completed Help Screens, Content Trigger Additions and Page Title Parameter consistencies. More information on each of these topics follow.
.htaccess Security Fix
A change was made to the htaccess.txt file to move the rewrite rules that block common exploits above the SEF URL rewrite section in order to force SEF URLs through the security checking. This is considered a minor security inprovement.
If you are upgrading your Joomla! 1.5 Web site, you are encouraged to use the Joomla! 1.5.4 delivered htaccess.txt file as your .htaccess file and reapply any changes you might have added for your hosting environment. If you have questions, please use the Joomla! 1.5 Security forum.
Language Installation Improvements
Improvements have been added to the Language Installation process so that the Site and Administrator languages can be installed as one package. Look for more information from the Bug Squad and the Translations Working Group blogs for how to use this new capability. Thanks to Jens-Christian Skibakk for his work in this area. If you have questions, please use the Translations forum.
JA_Purity Template
The Joomla! 1.5.4 release has a very special addition. For the first time, the JA_Purity template is now available in core. Last fall, Joomla! announced a Template Contest, requesting submissions from anyone interested. Early in January, five finalists were announced from a field of 30 templates and the community was invited to select their favourite. Over 50% of the votes went to JA Purity. Since that time, the template design has been updated to meet core standards and has undergone rigorous testing. It is now ready and included in the core distribution as one of three templates available for your use.
Thanks to JoomlArt for this fabulous design.
To use this new template:
Logon to the Administrator.
Select the Extensions-Template Manager menu option.
Click the option button to the left of JA_Purity and press the Default button at the top of the Web page.
The JA_Purity template will then be available in the frontend of your Joomla! Web site.
If you have questions or need assistance with this template, please use the JA_Purity Template forum.
Help Screens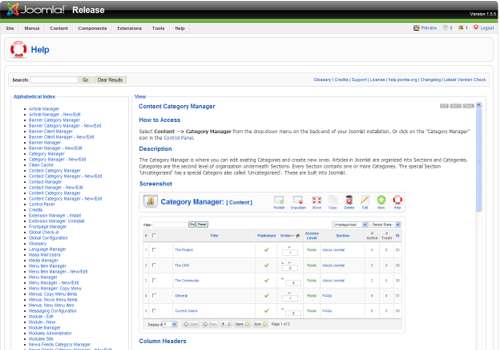 Joomla! 1.5.4 ushers in another important improvement. The Joomla! 1.5 Help Screens have been completed and are accessible from the Administrator. The Documentation Team has carefully explained how to use each element of the Joomla! user interface. Each function in every Administrator Manager has been meticulously documented to help Web site integrators and administrators understand the numerous options available and the implications of each choice.
This work is outstanding and professional. Special thanks to Chris Davenport, Joomla! Core Team member and Documentation Working Group Coordinator and to Marieke van der Tuin who led this team effort. Please take time to read Marieke's announcement and to thank her and the rest of the team for their considerable contributions to the Joomla! community.
If you have questions or find errors in the Help Screen documentation, please use the Documentation Suggestions, Modifications, and Correction forum.
Content Trigger Additions
One of the most exciting improvements Joomla! 1.5.4 brings is incredible potential. Those who are Joomla! extension developers are encouraged to take a look at two new functions in the Example Content Plugin for a glimpse of new capabilities made available in this release. Consider what is now possible with event triggers that fire before and after content is saved.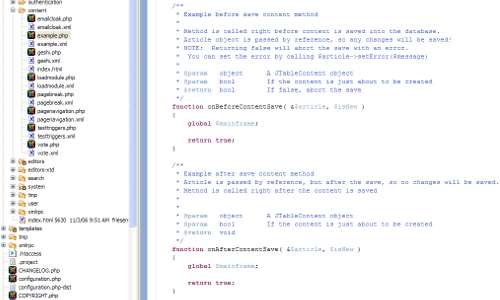 The onBeforeContentSave and onAfterContentSave event triggers open doors to all kinds of new innovation. Look for new third party extensions that will likely appear quickly offering extensions with email notifications for new articles, ping, automatic posting of articles to social networks, news services, or group blog environments, archive development, and easy to use version management. These triggers are very powerful and will prove to be an important improvement to Joomla!.
Special thanks to Anthony Ferrara for this work.
If you have questions about how to use these new event triggers, use the Joomla! 1.5.x Development forum.