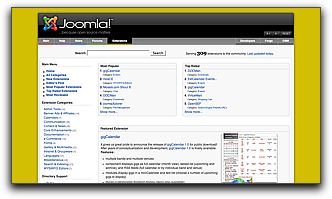 It's party time, folks! Today we proudly announce the launch of our Joomla! Extensions site. With Joomla! arguably the world's most popular open-source CMS and subsequently the largest active 3PD community, we're introducing the Extensions Directory to make things more fun. Yes, we have listened to the community about how it can be difficult to find things on the Forge. That message came through loud and clear and a working group has been furiously working behind the scenes to make things user-friendly.

What's this mean? Trying to find a particular component, module or bot (soon to be known as plugin when Joomla! 1.1 is released) on Extensions is a breeze. You can search by category, most popular, editor's picks, just as you can on high-end commercial software directories. Once you've found what you want to use, there's a "more information" and "download" links to the Forge where the developer's project sits. You will also be able to rate your choices, based on your experiences.
We are really excited about this, as it provides a powerful, simple interface which is user-focused. The team which has put this magic together started with the seed of an idea spawned by Ken McDonald. The technology driving the Extensions Directory has been donated by Lee, of Mosets.
Lee wants the Extensions Directory to become a one stop repository for all Joomla! extensions. "We also encourage users to participate by submitting their extensions to the directory as well as contributing reviews to listings they have used previously," he said. "The Extension Directory will not replace the Joomla! Forge, but instead complement it by presenting these extensions in a much friendlier layout. With this, we hope the directory will bring all 3rd party extensions closer to the Joomla! community."
"Just so you know, I was extremely enthusiastic when the Joomla! team invited me to help them solve this problem by creating an extensions directory using Mosets Tree. I agreed and immediately started working closely with the Directory Team. Thanks goes to them for their excellent team work, to the Forum moderators for testing and comments, and to Ken Mcdonald specifically for his excellent list of extensions popularly known as 'Ken's List'."
"The success of Joomla! relies partly on the huge number of wonderful extensions which help to extend the functionality of a Joomla! site. Since its early days, Joomla! has provided a great framework and APIs for third party developers to do this. This can be seen by the number of new releases and announcements at Joomla! Forge everyday."
Lee complimented other team members on their commitment to making the site happen. They include, Brad Baker, Andy Miller, Shayne Bartlett, Graham Spice, Ole Bang Ottosen (ot2sen).
Graham Spice, of gigCalendar, believes Extension Directory will have far-reaching effects for the Joomla! (and Mambo) communities, as well as a huge audience of potential new users. "This is the first official unified directory of solutions for Joomla! ever created," he said. "Finally, a single location to search for features for Joomla! Have you ever wondered what calendars are available? Perhaps you wanted to try a few different form-generators to see which one met your needs. Did you ever need opinions on extensions but couldn't find any?"
"I would have loved this site when I first started learning about extensions," he said. "The Extensions Directory is a well-organised list of available extensions rich with community feedback and categorisation that you can search and browse. This directory will help the popularity of Joomla! as a resource for potential users to find solutions for their needs."
"As one the editors of the new Extensions Directory, I look forward to seeing its effects on development projects. I expect the directory to be a catalyst for the continued development of elegant solutions for Joomla! Let's see what this thing can do..."
The Extension Directory announcement follows the recent launch of Joomla's Developer Network Portal. We coined the Developer Portal "the cool hangout for third party developers". If the outstanding success of the developer "hangout" is anything to go by, the Extensions Directory should be just as popular.
Tonie de Wilde (Tonie) will be administering the Extension Directory. Tonie has been one of the community's most prolific contributors and has been asked to join the Core Team to assist Brad Baker with maintaining all of our sites, including the forums and the Forge. "We hope bringing Tonie on board will help further add to the smooth running of the community," Core Member Brad Baker said. You can meet the guys who are devoting time to the directory on the Joomla! forum .
One More Thing!
Our 25,000th member signed up on the forums this weekend. That's more than 4,100 people joining Joomla! each month. Traffic for February, including forums, was more than 64 million hits. Our third party developer registrations on the Forge has cracked 18,000 with 844 projects. This is astonishing! We believe this growth is driven by the way people roll up their sleeves and help others. So, when speaking about Joomla!, don't forget to mention the new Extension Directory as "one more reason to support Joomla!"