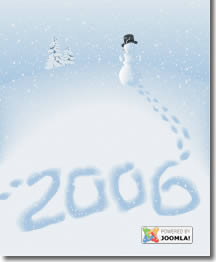 With a New Year around the corner, the Joomla!™ Team would like to wish the community the best.
Thanks to those of you who've taken the time to write with your wishes for the year end.
Our happy worker bees have been continuing development during the Festive Season and released 1.0.5 in time for Christmas.
We've got some more good news coming in the New Year. In fact, we've already hinted a couple of times about raising the bar in terms of power and standards for third party developers. We've also got some news about a forthcoming release with both feature and functionality improvements. 2006 will see us build on new technologies enhanced by a more robust, standardised, modern codeset.
What are we saying here? Well I guess you'll need to wait to see the announcement on January 1st!
Until then, enjoy your New Year celebrations and if you're not partying too hard drop by for a Joomla!™ Powered 2006.