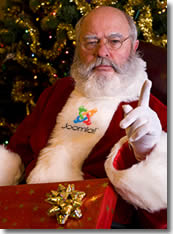 With 2005 on the turn to 2006, festivities, celebrations and holidays in full swing, the Joomla! team sends Season's Greetings to all community members.
From what has been an eventful year, 2006 promises to see Joomla! become the default Open Source CMS/Framework of choice. The development team wants everyone to know we're focused on creating something special that becomes the most popular web publishing tool around.
The list of supporters of the Joomla! project is way too long to mention everybody. But let's mention a few stars ... 16,000 plus subscribers to our forums. The contribution in the forums is what makes the heart and soul of any Open Source project tick. Thanks guys for being there and providing such brilliant support, guidance and mentoring for others.
Sharing is what you've been doing — sharing makes Joomla! stronger.
We must not forget the third party developers who've supported us through thick and thin. The faith you guys have shown in the project has been and will be rewarded in spades. We have a few great new ideas to help you further your 3PD projects, so please stay tuned in the new year.
Moreover, we have some wonderful sponsors to thank too:
Rochen Ltd: Thanks to Chris, Brad and the guys for being so great at what you do.
The Software Freedom Law Center: Thanks to Eben Moglen and his dynamic team.
VA Software - SourceForge : For providing a development environment which now hosts more than 500 3PD projects.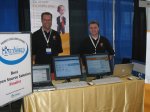 Since we "spooned" from Mambo, after having just won further recognition at the San Francisco LinuxWorld & Expo — and defeating Firefox in an open source awards shootout — much progress has been made. In fact, free of the shackles which had held us, Open Source Matters was created, Joomla! was born and has gained confidence both within the team and the community. This confidence was further rewarded by our codeset scooping two more awards ("Best Linux / Open Source Project" for 2005 and Core Team member Brian Teeman winning "UK Individual Contribution to Open Source" for 2005).
Along with the rapid growth of the Joomla! project, we have made some structural changes to provide development pathways in the areas of Standards and Guidelines for 3PDs, Standards, Usability & Accessibility and, language contributions have also grown.
Down in the engine room of Joomla's development, the teams have been making significant progress with new technologies and their integration into the core. The announcement of greater power delivered through the new code will have to wait until the New Year, however we will be making a special announcement for Christmas.
Thanks guys for all the amazing work. Hope you can spare some time for some Christmas cheer!