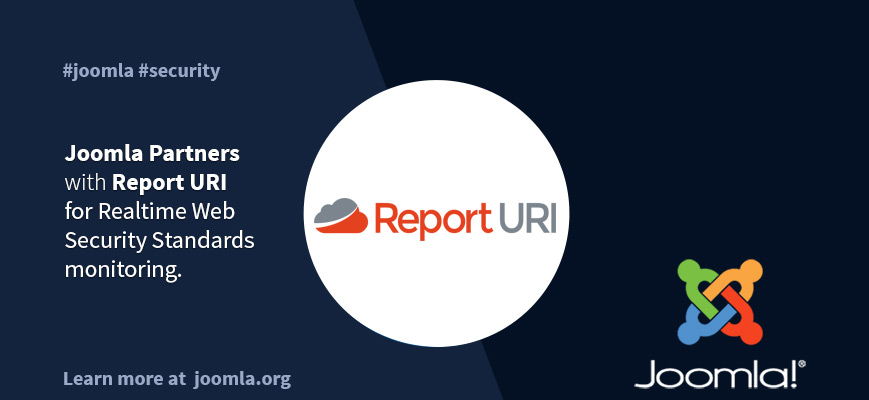 Joomla, one of the world's most popular Content Management Systems (CMS), announced today its partnership with Report URI, the Application Security and Health Monitoring leader.
Report URI and Joomla are pleased to announce a new partnership where Joomla will be using the industry leading solution to continuously monitor the multitude of joomla.org websites, analyze the results and improve security for website visitors. For Report URI this partnership means helping build a more secure open internet by serving one of the world's most prominent open source organizations and further helping to enhance the security of open source projects.


Joomla's HTTP Security Headers journey for the joomla.org network of sites started back in March 2018 and since then we have constantly improved that to now set most of the available headers which result in an A grade on SecurityHeaders.com for joomla.org. A key part of a successful implementation is a reporting endpoint and back in 2018 we built our own solution, but over the time we realized that this solution does not scale and there are so many invalid reports that have to be ignored – so we disabled the reporting endpoint after the successful implementation and an initial test run. Today we are really excited to start enabling reporting via the Report URI service across our sites and fill that gap so we can constantly monitor and collect not just the Content Security Policy reports, but also all sorts of other reports in one central place.
Says Tobias Zulauf, Security Member Joomla CMS and Websites.

Scott Helme, Founder of Report URI, also shared his excitement:
We're thrilled to be supporting Joomla on their journey to creating a more secure browsing experience for their visitors. Reporting can often be difficult and result in large volumes of unexpected traffic but our scale and filtering capabilities allow us to take the pain out of receiving these reports. It's great to see more organisations deploying modern security mechanisms like Content Security Policy and we'd encourage other websites to follow in Joomla's footsteps.
About Report URI
Report URI is the best real-time monitoring platform for cutting edge web standards. Their experience, focus and exposure allows them to take the hassle out of collecting, processing and understanding reports, giving us just the information we need. Did you know that browsers can automatically send all sorts of useful information about the security profile and health of a site? The Report URI solution is created to take the pain out of monitoring security policies like CSP and other modern security features. When you can easily monitor what's happening on your site in real time you react faster and more efficiently, allowing you to rectify issues without your users ever having to tell you.
About Joomla
Joomla is an award-winning content management system (CMS) used to build beautiful web sites and powerful online applications. A global volunteer community of developers has been building and improving Joomla since the first version was released in 2005. This immense effort has made Joomla easy to use, stable and very secure. Joomla is search engine and mobile friendly, multilingual, flexible and extensible. Offering unlimited design possibilities alongside industry leading security, Joomla also has thousands of third party extensions and templates allowing further customization to meet specific needs. Best of all, Joomla is an open source solution that is freely available to everyone.