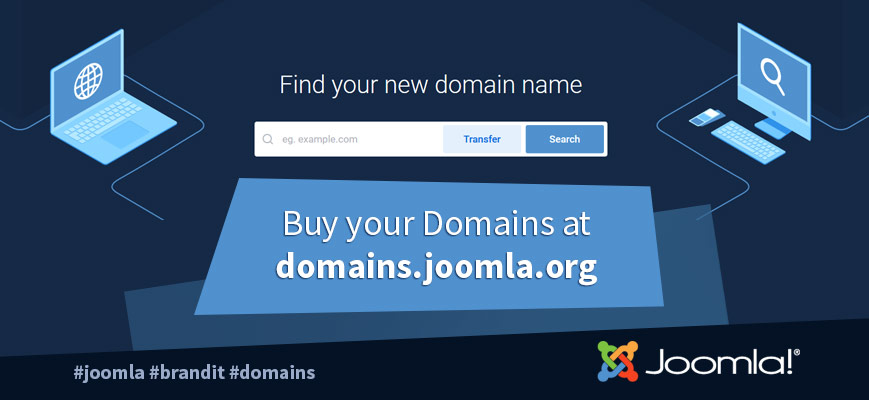 It's an exciting day for The Joomla Project and BRANDIT!
As the consolidation and packaging of web services move forward, we are happy to announce the official launch of our domains platform (powered by BRANDIT), domains.joomla.org.
Every website starts with a domain name, and by offering domains directly from Joomla.org, our users gain a new way to help build their online presence whilst helping the project financially.
Domains.joomla.org is a full domain registry service that gives Joomla a direct connection to TLD's and Registrars.
This partnership opens up new opportunities for sponsorship and special offers to the Joomla Community.
As we launch the platform, two registrars have already sponsored several JoomlaDays, and BRANDIT has become a Platinum Sponsor of the Joomla Project.
Whether you are looking for a new domain name or to transfer your existing domain portfolio, domains.joomla.org is the perfect platform. Offering you a wide range of TLDs alongside a robust and intuitive industry leading control panel for domain management.
It is that simple, get started today, together Joomla and BRANDIT make your domains feel at home!
Benefit from the special Offers for the launch!
.com
9.99€ for the first year and transfers
.club
0,99€ for the first year
.at
9.99€ for the first year
---
Translations