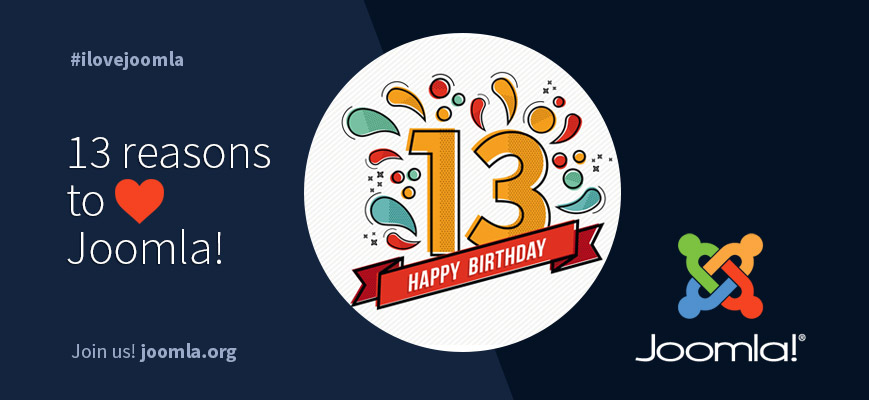 13 years ago, we set out with a vision – to develop a CMS that stood firm on its Open Source values. Instantly, the community was behind us – with more than a thousand people joining our project within just one day. Fast forward 13 years and you could say that we've come a long way. 14 versions in (major/minor), Joomla! now powers millions of websites, with more than 7950 extensions lining the digital shelves of our extension directory.
To celebrate Joomla! hitting our teenage years, we want to share 13 reasons to love our platform in 2018…
1. Joomla! is Fully OpenSource – for Freedom to build, and Freedom to Scale
Joomla! is, and always will be, proudly OpenSource (and totally FREE).
2. Joomla! is Established, Stable and Trusted by Businesses the World Over
Reliability – it's mission-critical for businesses the world over that rely on their website for sales, enquiries and conversions. Since day dot we were focused on creating a platform that was strong and stable – and we believe our success in this area is just one of many reasons why we now power nearly 10% of all websites worldwide.
3. Joomla! Award-winning (x20)
Joomla! continues to pick up gong after gong, with almost 20 awards to our name, including: CMS Critic People's Choice Awards - Best Free CMS, Packt Open Source Awards - Best Open Source CMS, and Infoworld Bossie Awards - Best Open Source Application. Let's just say that our trophy cabinet will soon need an upgrade!
4. Joomla! has a Feature-Packed Core (That Just Gets Better, and Better)
With every version we release, we aim to add something worth shouting about. This has led us to a CMS that now features out-of-the-box functionality that other platforms need a long list of plugins for if they're to compete.
5. Extensions, Extensions Everywhere
From event calendars and inline editing, to newsletters and form makers, the extended website features you need are but a single click away (and our extension library grows by the day!).
6. Joomla! has an Incredibly Flexible UI
Joomla! can transform into whatever you want and need it to be – brochure site, eCommerce, portfolio showcase – with a design style to suit.
With a flexible UI supercharged with endless themes and plugins, the online world is your oyster.
7. Joomla! has One Powerful MVC
A predictable core code base is all well and good, but if it can't flex and fit to the needs of developers, what use is it? Our multi-talented MVC strikes the balance just right.
8. Joomla! is Mobile Responsive and SEO Friendly (Right from the Get Go)
We've always moved with the times – ensuring that Joomla! looks fabulous no matter the device – desktop, smartphone or tablet (right out of the box). Part and parcel of this is also ensuring that our platform is easily navigated by the SEO powers that be – with code that can be traversed by those rather demanding Googlebots.
9. Always Security Conscious
Never ones for resting on our laurels, we take security seriously. In fact, we've got a dedicated Strike Team, who have the sole mission of finding and patching exploits before they become widely known.
10. Joomla! Speaks your Language
Urgh. Who wants to wrestle with plugins to simply get your CMS to talk in your own language? Certainly not us (or you, we're guessing). That's why Joomla! is multilingual – with more than 70 languages available.
11. A Growing Community That Reaches Right Around the World
We'd be nothing without our army of volunteers, developers and designers behind us. It's all part of the OpenSource ethos (just call us one big happy family).
12. Beer, Cookies and Song - We Work Hard, and Play Hard
As you may have guessed, our community lives and breathes code and CMS innovation. But it's not all work, work, work. For all their efforts, they deserve copious amounts of beer, cookies and song.
13. Joomla! 4 is on the Horizon - Lighter Code Base, Tighter Security, Better Accessibility.
Great things come to those who wait, and just around the corner is Joomla! 4. Featuring a fresh user interface, a lighter code base, tighter security and better accessibility, it's fair to say that there's never been a better time to become a Joomla! fan.
Unlucky for some, but wonderful for us, 13 has been great for Joomla! and its loyal users. So here's to the next 13 years of innovation and growth! Cheers!