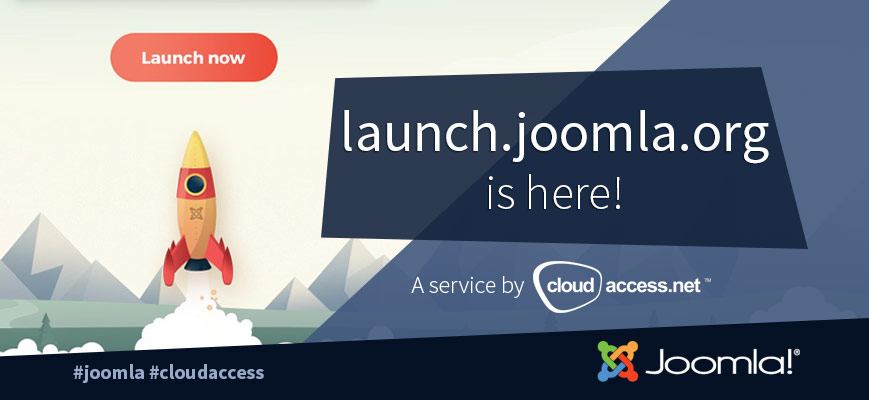 The Joomla Project and CloudAccess.net are equally excited to announce the launch of launch.joomla.org, the brand new platform to launch a free Joomla website and test upcoming releases to support the project by helping make our CMS the best it can be.
Following the request for proposal for a new service provider to replace demo.joomla.org and jooma.com, the Joomla Project selected CloudAccess.net to provide users a brand new platform.
Raising the bar for same goal excellence, Joomla and CloudAccess.net have worked closely during the past few weeks to provide you the best tool possible. Try it and fall in love with Joomla.
So, what is exactly launch.joomla.org?
Launch a free and fully functional Joomla Website
If you are new to Joomla and would like to see it in action without downloading and setting it up yourself, launch.joomla.org gives you the ideal opportunity to do so and have a fully functional Joomla site up and running in a matter of minutes.
The process to launch your new Joomla website has never been easier!
Visit launch.joomla.org
Choose your site name
Select your Datacenter location
Pick a default frontend template
Click launch
It is a simple as that and once your site is up and running, you can start configuring and extending it right away by adding the extensions you need. phpMyAdmin and FTP access are also available should you need them.
So why not give Joomla a try, we're sure you will fall in love with it!
Already a Joomla user and want to get involved by testing upcoming releases?
Would you would like to get involved in helping with the development of Joomla but don't know how to set up a testing environment? launch.joomla.org solves this problem! No need to install anything, you can get a testing environment within the blink of an eye.
Simply choose the version you would like to test, install the patch testing extension for the Joomla CMS and start testing pull requests. Whilst you are testing, if you find any bugs, you can easily report them at issues.joomla.org.
No special skills are required to become a tester! If you have never tested pull requests, the Joomla Documentation provides you all the tutorials you need and the Bug Squad Team will be happy to guide you.
Tests are important in an open source project like Joomla as it allows us to provide quality assurance for the upcoming releases, so be part of it, start testing today with launch.joomla.org!