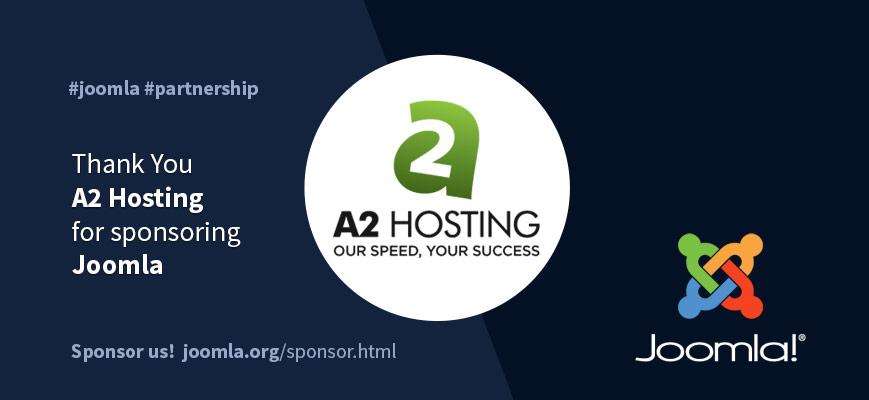 Who is A2 Hosting?
It's likely that you're already familiar with A2 Hosting. Not only are they an active Joomla! Community member and have sponsored Joomla! and our community, they have been hosting Joomla! sites since their launch back in 2003.
If you're unfamiliar with A2 Hosting, you're in for a treat. That's because A2 Hosting is focused on ensuring that Joomla! users get the fastest page loads speeds for their sites as well as receive top-notch support and reliability.
At A2 Hosting, they understand that your page speed has a direct impact on your site's success. That's why at A2 Hosting, it's "our speed, your success". They know that a mere 1-second improvement in your page load speed can increase your conversion rate by 7% as well as improve your bounce rate and visitors' satisfaction level.
A2 Hosting's Joomla! Sponsorship
Before we delve deeper into all of A2 Hosting's exciting features (that make them faster and just plain better), here are just a few of the ways their sponsorship will help our community:
Aids in operation & maintenance of Joomla! domains
Helps fund Joomla! Days & other Joomla! events
Supports Joomla! attendance at global conferences
Supports the growth and development of Joomla!
Joomla! Optimized Hosting
How can you really give your site a speed boost? Host your site on A2 Hosting's Turbo Servers, featuring up to 20X faster page loads compared to competing Joomla! Hosting providers. A2 Hosting's Turbo Servers feature a speed enhanced, drop-in replacement for Apache that can really make a difference for your site.
You'll also get access to their exclusive A2 Optimized Joomla! install. A2 Optimized Joomla! is a result of A2 Hosting's team of software optimizers testing numerous Joomla! configurations to determine the one that offers the fastest page load speeds. Your A2 Optimized Joomla! install comes pre-configured with these speed enhanced settings:
Browser Caching
CSS & JavaScript Merging & Minification
Disabling Debugging
Gzip Compression
Page Caching & Duration
A2 Hosting's Turbo Servers also features free caching solutions that you'll normally only find compatible on higher priced VPS or Dedicated Server options. Give your site an extra boost with Turbo Cache, APC/OPcache and Memcached. Each of these caching solutions can be turned on with a few clicks of your mouse within the Site Accelerator tool found within the A2 Hosting user control panel.
Not quite ready for A2 Hosting's Turbo Servers? You'll still get excellent performance on their other accounts because each Shared Hosting package includes free solid state drives (SSD), your choice of data center, a free content delivery network (CDN) and so much more!
User Friendly Joomla! Experience
Getting started with A2 Hosting couldn't be easier! That's because Joomla! comes pre-installed on your hosting account. That means you don't have to worry about downloading and uploading any files. Your Joomla! install will be ready and waiting for you once you sign up for your A2 Hosting account.
Do you already have an existing Joomla! site? A2 Hosting's expert, 24/7/365 Guru Crew Support team will be happy to migrate your site to their servers for free.
A2 Hosting offers fully scalable solutions meaning as your site grows, you'll be able to seamlessly transition into a hosting package option that supports that growth. Host your Joomla! site on your choice of Shared, Reseller, VPS or Dedicated Servers.
Not only do you get fast performance from A2 Hosting, you'll also get secure service that you can rely on. Each A2 Hosting option is backed by their 99.9% Uptime Commitment and includes free SSL via Let's Encrypt.
Giving A2 Hosting A Try
We encourage all Joomla! users to sign up for a Joomla! Hosting account from A2 Hosting! It's clear that you'll experience ultimate performance, but you will also be supporting one of our sponsors.
You're going to be thoroughly impressed with their rare combination of speed, dependability and support. Even if you already have a host, there's absolutely no risk at all in kicking the tires with A2 Hosting because they offer a hassle-free, Anytime Money Back Guarantee. That's how confident they are that you're going to love their service. We think you'll love it too.