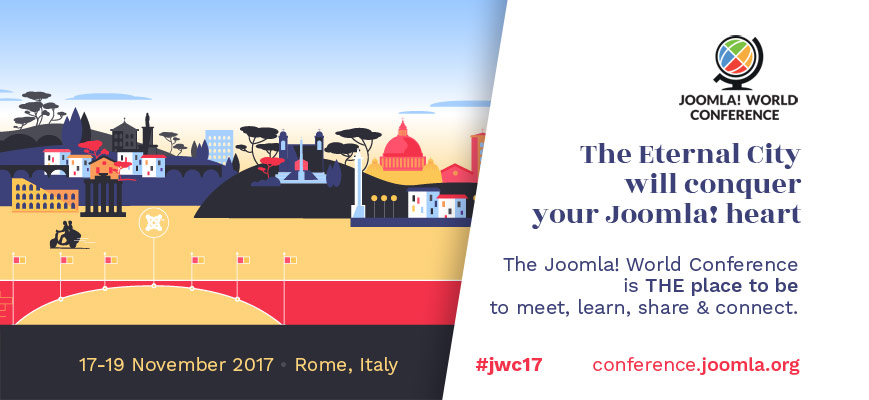 With one of the largest user bases, Italy is a natural choice for this year's Joomla! World Conference Venue. For the first time the JWC is coming to Europe and will take place at the Sheraton Roma Conference Centre between 17th and 19th November, 2017.
Rome is the capital of Italy and boasts a colourful history spanning over 2,500 years with many magnificent buildings of ancient times still in existence today. From the iconic backdrop of the Colosseum amphitheatre where gladiators fought over 2000 years ago to the delight of the onlooking Roman generals and crowds numbering between 50 and 80,000.
A more tranquil and sedate place to visit is the 18th Century Trevi Fountain, the most beautiful marble façade which proves to be a very popular visitor attraction. Legend has it that whoever throws a coin into the fountain will return to Rome. This legend is clearly recognised by visitors who typically manage to relieve themselves of on average 3,000 Euros each day. The money is collected and given to good causes throughout the city.
There are many, many more attractions within the city, the Vatican, it's ornate churches and extensive museums being one. It can take at least a day to get round the Vatican but is time well spent.
But of course, the biggest reason for visiting Rome this November is the Joomla! World Conference.
A packed agenda with some great speakers and a range of tracks covering Development, Design, Integration and Users with workshops and sessions for all levels from beginner to expert. Not to mention some engaging keynotes offering up to the minute presentations views of the industry in general and where it is heading.
On the Joomla! front, with the eagerly awaited launch of Joomla! 4, this will be an opportunity to meet the development team and get a hands on preview before launch.
With capacity for 500 attendees, it is expected to be a full house, tickets are selling fast, but you can still take advantage of an early discount which represents exceptional value for money.
So, what are you waiting for, visit conference.joomla.org now and get your ticket at a reduced price before they run out.