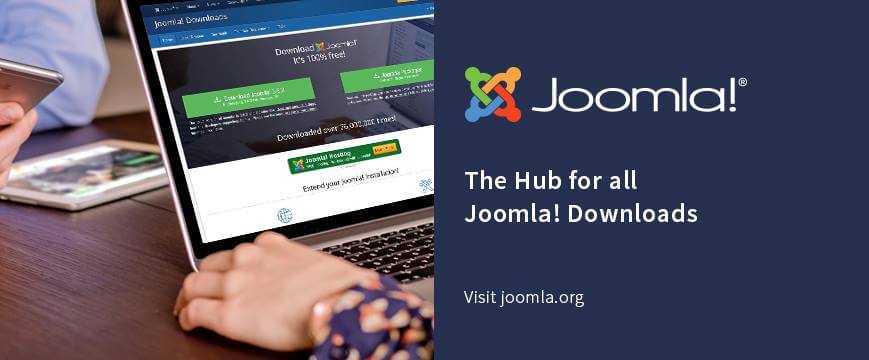 The Joomla! Community proudly presents the centralised and localised Joomla! Downloads portal. It will be the only place you'll ever need to visit for all Joomla! CMS core files.
At https://downloads.joomla.org you will find the latest Joomla! Releases and Updates, direct linking to all the language packages and to the Joomla! Extensions Directory™ (JED) where you will find almost 8,000 extensions to empower your website.
This centralised hub aims to be welcoming to the entire Joomla! International Community. It has been localised into several languages with more to come.
With the release of our own download platform, an extra security layer has been added with signatures so that you can always run a check to ensure the download (and code) is genuine.
The portal now already serves all of the CMS releases using a customised build of the Akeeba Release System.
In the near future the portal will become the hub for all Joomla! Project Downloads including official and decoupled extensions.
As announced last year, JoomlaCode has proven itself useful for a long time, but now it's time for its retirement and it will be permanently closed, as soon as all official language packages are migrated to the Downloads portal.
Not sure if you're ready to start with Joomla! or you're looking for a guide to the perfect update? We've created a small support area covering migration, online documentation, forum support and our Issue Tracker if we might have missed a bug.
Thank you!
The portal was built by Michael Babker and his Team, Sandra Decoux and Marc-Antoine Thevenet.
A huge Thank you to them for all the work they have done!
A big thank you to the Akeeba Backup team and all the translators who made sure that the portal is localised.
Happy Downloading!
Translators who are helping in localising the Joomla! Downloads site: Andre Pereira da Silva - Arkadiy Sedelnikov - Berta Guzmán de la Mata - Carlos Cámara - Chris Hoefliger - Christian Hent - Dario Grahovac - Diogo Jesus - Dmitry Rekun - Dwi Rianto - Guilherme Dias - Helvecio da Silva - Hussein Al Bosyri - Isidro Baquero - Kenneth Strømsvold - Kristaps Krūzmanis - Luca Marzo - Marc-Antoine Thevenet - Marcelo Ghelman - Martijn Maandag - Michael Babker - Mike Brandner - Miłosz Wojaczek - Ole Bang Ottosen - Oscar Ortiz - Paulo Pereira - Perry Verheij - Peter Michnica - Rivo Zängov - Rune Rasmussen - Sandra Decoux - Sretko Devič - Stefan Gagner - Supachai Teasakul - Székely Dénes - Tobias Zulauf - Yild.