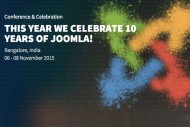 The November 2015 issue of the Joomla! Community Magazine is here! Our stories this month:
Editors Introduction
Joomla Goes to India, by Alice Grevet
On November 6th, Joomlers from all over the world will be gathering in Bangalore, India, for the fourth annual Joomla World Conference. Collaborate. Learn. Network...
Designers
Accessibility Testing the Colours of Your Website, by Peter Bui
Sitebuilders
11 Critical Mistakes to Avoid in a Membership Site. 
Part 2 of 3, by Dom Cassone
SDGs, The Open Government Partnership, and Joomla!, by Angel García Zinsel
Events
JoomlaDay Poland 2015, by Justyna Michallek
Joomla Day Israel 2015, by Shirat Goldstein
International Stories
Français
Est-ce l'amour que je ressens ?, par Marie-Louise Berthe
Portuguese (Brazil)
A trilha do Joomla foi marcada na Latinoware 2015, - Luiz Felipe Weber


In our next issue
We want to publish your Joomla! story in the next JCM issue! So take a look at our Author Resources content to get a better idea of what we are looking for, and then register to become a JCM author and submit your Joomla! story!