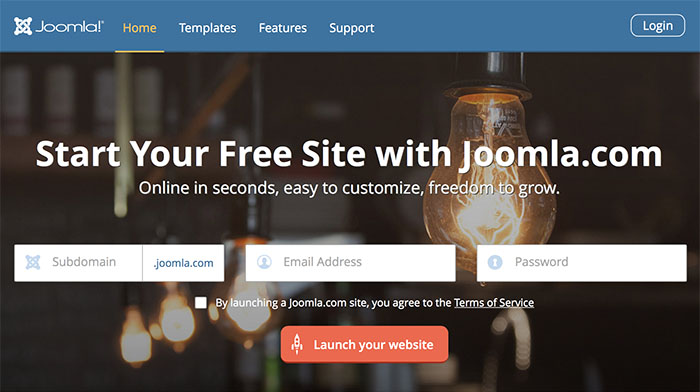 New York, NY, - January 20, 2015 - Joomla, one of the world's most popular open source content management systems (CMS), announced today the launch of its new service: Joomla.com. Users can now create and build freely hosted Joomla websites. The project is run in partnership with SiteGround web hosting company, who has built the server infrastructure that will accommodate the free Joomla sites.
By providing an option to have a free hosted website for unlimited time, Joomla aims to become even more popular and to substantially increase its user base. The target users of the new service are people, who are currently choosing free hosted options with other website building solutions. The new service not only removes the hosting cost of setting up a Joomla website, but also makes it easier to get started. Launching a Joomla.com website takes just a few clicks.
The President of Open Source Matters Inc. Sarah Watz says: "I'm very excited because the new service at joomla.com makes Joomla! CMS a more accessible option than ever."
Joomla.com service provides all the basic standard publishing features of Joomla! CMS but has a limited expandability. It includes a nice set of pre-selected templates and several very useful pre-installed extensions like Google analytics, Google maps integration, Disqus powered comments and social media sharing options. The service may not be the proper solution for users who would like to create an advanced website with their custom code and their own choice of templates and extensions from the very beginning. However, websites started at Joomla.com can easily be developed later into full-fledged self-hosted Joomla projects without any limitations on extendibility.
According to Sarah Watz, the President of Open Source Matters Inc., the main reasons to use joomla.com instead of a self-hosted Joomla CMS are:
Hosting of the website is FREE.
Free site name at the joomla.com subdomain (ex: mywebsite.joomla.com).
Comes pre-installed with additional extensions, templates, and all available languages.
Automatic updates.
You can see a more detailed comparison between the two options at: http://tutorials.joomla.com/basics/16-joomla-com-vs-joomla-org
Some of the other great benefits of the new hosted free website service by Joomla are:
No Advertising.
The Joomla backend is translated in more than 50 different languages making Joomla.com a great opportunity for people all around the world to start their online presence easily and freely.
Easy to upgrade to a fully hosted service with custom domain.
Can be moved at anytime to any hosting service.
Joomla is one of the most popular open source CMS platforms used by millions of people around the world for almost 10 years and Joomla.com users can take full advantage of the already collected knowledge and the existing big and helpful community.
Joomla.com server infrastructure is built and will be supported by SiteGround web hosting company. The hosting partner of the project was chosen by Open Source Matters, Inc. (OSM) among several candidates through a public RFP. Joomla.com users, who at any point decide to go self-hosted, will be free to move their website to any hosting company of their choice. However, if they choose to use a paid shared hosting plan by SiteGround for such a move, a substantial part of their hosting fees will be contributed directly back to the Joomla project.
"We are very proud to be a partner with Joomla in this project. It has been a great way for us to contribute back to the community with what we are best at: our web hosting expertise!" says Lilyana Yakimova, Marketing Manager of SiteGround.com.
About Joomla!
Joomla is one of the world's most popular software packages used to build, organize, manage and publish content for websites, blogs, Intranets and mobile applications. With more than 3 percent of the Web running on Joomla and a CMS market share of more than 9 percent, the free open source software powers the web presence of hundreds of thousands of small businesses, governments, non-profits and large organizations worldwide like Citibank, eBay, General Electric, Harvard University, Ikea, McDonald's and Sony. The award-winning CMS is led by an international community of contributors helping the most inexperienced user to seasoned web developer make their digital visions a reality. Joomla's power and extensibility has resulted in its software being downloaded more than 60 million times.
About Open Source Matters, Inc.
Open Source Matters, Inc. (OSM) is the not for profit organization, created to provide organization, legal and financial support to the Joomla project.
About SiteGround
SiteGround is a leading web hosting company with a special focus on Joomla CMS. It has developed multiple security, speed and management optimizations for its customers who use Joomla. SiteGround has also been actively involved with the Joomla community by sponsoring, attending and/or lecturing at more than 40 Joomla events during the last three years. SiteGround is currently the official hosting partner of Joomla! for its demo service and its new free hosting service.
Editorial Contact:
Sarah Watz
+46708755115
This email address is being protected from spambots. You need JavaScript enabled to view it.
Languages translated: