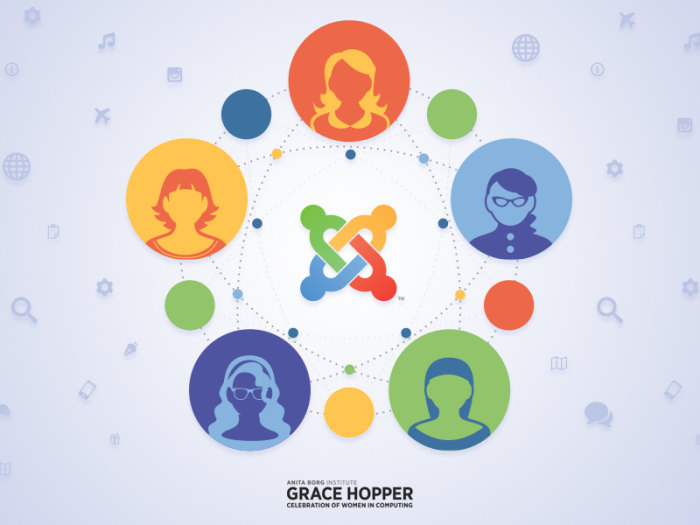 Joomla!®, one of the world's most popular open source content management systems (CMS) used for everything from websites to blogs to custom apps to Intranets, is delighted to be supporting the Grace Hopper Celebration of Women in Computing as a Silver Sponsor. The event is the largest of its kind in the world, with over 4,700 women coming together from 8-10 October in Phoenix, Arizona (USA) to learn, share and inspire.
The conference has a long history, having been founded in 1994 with the intention of bringing together the community of women technologists, the best minds in computing, and increased visibility for the contributions of women to computing. The event has grown exponentially, and attracts a hugely diverse audience, with representation from over 53 countries during the 2013 event in Minneapolis, Minnesota.
Joomla will be represented at the event by Sarah Watz, President of Open Source Matters, the non-profit created to provide organisation, legal and financial support to the Joomla project and Ruth Cheesley, Community Leadership Team member.
Ruth Cheesley will also be running a session in the Student Opportunities Lab entitled 'Getting involved with Joomla', showcasing the opportunities for women to get involved with Open Source projects such as Joomla during their academic career and beyond.
Ruth Cheesley explains "The Joomla project has so much to offer to women who are interested in technology, right from coding, development and architecture through to community management, marketing, graphic design and so much more. I found the community to be a great place to work with people from around the world, learning and sharing knowledge and skills when we come together to make things happen. While Joomla is an Open Source project, it allows you to develop transferable skills and has a huge ecosystem of commercial organisations, freelancers and all kinds of businesses."
Sarah Watz noted the benefit of Joomla's participation at the Grace Hopper Conference "Taking an active part as both a Silver Sponsor with a booth showcasing Joomla and running a session gives us a great opportunity to meet all these awesome women in Technology that comes to the event that might not have had the possibility to get to know what Joomla can do for them as well as what they can do for Joomla. I feel very excited about this possibility."
About Joomla!
Joomla is one of the world's most popular software packages used to build, organise, manage and publish content for websites, blogs, Intranets and mobile applications. With more than 3 percent of the Web running on Joomla and a CMS market share of more than 9 percent, the free open source software powers the web presence of hundreds of thousands of small businesses, governments, non-profits and large organisations worldwide like Citibank, eBay, General Electric, Harvard University, Ikea, McDonald's and Sony. The award-winning CMS is led by an international community of more than a half million active contributors, helping the most inexperienced user to seasoned web developer make their digital visions a reality. Joomla's power and extensibility has resulted in its software being downloaded more than 50 million times.
Image credit: Chiara Aliotta