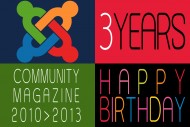 The July issue of the Joomla Community Magazine is here! Our stories this month:
Editors Introduction
Happy 3rd Birthday JCM!, by Alice Grevet
Google Summer of Code
Improve Joomla! Frontend Semantics & Accessibility, by Pruteanu Alexandru
Creating com_services for Front-end Website Administration for CMS 3, by Buddhima Wijeweera
Convert JavaScript from MooTools to jQuery, by Ashan Fernando
Template Manager Improvements for CMS 3, by Ram Tripathi
Module Modernization, by Lasindu Charith
Automated Testing and System Test, by Puneet Kala
New Media Manager, by Nguyen Tran Quan
Improve Form Fields, by Achal Aggarwal
Support for Cloud Storage APIs, by Alex Marin
Designers
Thoughts on Web Design from an Inbound Marketer, by Shannon Good
Sitebuilders
How to Choose an Extension? Part 2: Support, by Mike Veeckmans
Business Matters
How to Select the Best Social Network for Roaring Business Promotions?, by krish kash
404 Error Page Best Practices [Hilarious Examples Included], by Hannah Kaufman
Joomla Industry Scenario in Brazil, by Helvecio da Silva
Administrators
How I Got My Website to Load in 1.29 Seconds, by David Attard
Is Your Joomla Site Optimized to Receive the Maximum Amount of Leads & Sales?, by John Rampton
Project News
Leadership Highlights - July 2013, by Alice Grevet
Building the Vulnerable Website, by Mandville
The Joomla! Haikus
Post your Haikus for July, by Dianne Henning
International Stories
Browse the international articles submitted this month.
In our next issue
We want to publish your Joomla! story in the next JCM issue! So take a look at our Author Resources content to get a better idea of what we are looking for, and then register to become a JCM author and submit your Joomla! story!