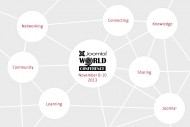 The June issue of the Joomla Community Magazine is here! Our stories this month:
Editors Introduction
Joomla! World Conference 2013..., by Dianne Henning
Feature Stories
Help the JCM Go Dutch!, by Dianne Henning
Interview with Dutch Joomla Leader Sander Potjer, by John Rampton
Events
Houston, we have a JoomlaDay!, by Robbie Adair
A Word from the Community, by Helvecio da Silva
Local User Group Celebrates 50th Anniversary With Joomla 3.1 Launch Party, by Victor Drover
Project News
Meet The Joomla Global Sponsors, by Mike Carson
Leadership Highlights - June 2013, by Marijke Stuivenberg
Business Matters
Easy Tips for Using Blogging as a Lead Nurturer, by Hannah Kaufman
How to Create a Socially Friendly Website, by Shannon Good
Sitebuilders
Website Case Study: Building Multilingual Hotel Websites, by Sully Sullivan
How to Create a High Converting Landing Page, by Luke Summerfield
Duplicate Pages in Joomla: Causes, Most Common Errors, Solutions, by Alex Bulat
The Joomla! Haikus
Post your Haikus for June, by Dianne Henning
Extensions and Services Evaluations
How to Choose an Extension? Part 1: Selection Steps, by Mike Veeckmans
International Stories
Browse the international articles submitted this month.
In our next issue
We want to publish your Joomla! story in the next JCM issue! So take a look at our Author Resources content to get a better idea of what we are looking for, and then register to become a JCM author and submit your Joomla! story!