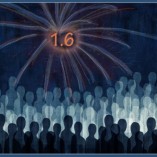 The February issue of the Joomla! Community Magazine is here!
IN THIS ISSUE:
Thanks to the members of the Joomla! community who are contributing authors in this month's issue: Manolis Markatselas, Peter Bui, Jarrod Nettles, Anh Tuan Bui, and Nicholas Dionysopoulos.
Editor's Introduction
Coming together to announce a new era... by Paul Orwig
Feature stories
Dianne Henning introduces us to a developer who is equally talented and helpful in her Born to be wild: An Interview with Chris Marinou.
Alice Grevet unveils how all the great Joomla! 1.6 launch content came into existence in Kyle Ledbetter: King of the launch room.
Jon Neubauer highlights the crucial work being undertaken to simplify migrations from Joomla! 1.5-1.6 in Developing jUpgrade: An interview with Matias Aguirre.
International stories
Manolis Markatselas has submitted an article in the Greek language for this issue.
Opportunities are now open for community members to submit articles in 17 different languages.
Leadership Connections
OSM board member Alice Grevet shares some updates on what OSM has been doing during January on behalf of the Joomla! project.
CLT member Matt Lipscomb takes us behind the scenes one final time at Joomla! Day West 2010: The 2010 Video Interviews - Final selection.
Website Case Studies
Peter Bui invites you to pass judgement on the Joomla! solutions implemented on the High Court of Australia website.
JUGs and Events
Alice Grevet shares her experiences in connecting with Joomla! 1.6 celebrations all over the world in Let Them Eat Cake!.
Developers Workbench
Jarrod Nettles shares with us his perspectives on how to maintain your sanity by keeping your code in a single library across multiple projects in Rapid Development Techniques: Removing Mootools.
Did you know…?
Anh Tuan Bui shares some really helpful links in Good resources for Joomla! beginners.
Designer's studio
Anthony Olsen shares a lot of great ideas in Fourteen secrets of Joomla! templating.
Administrator's toolkit
Nicholas Dionysopoulos asks some hard questions and reveals some possible pitfalls in How off-line is Joomla!'s off-line mode?.
Joomla! in the Press/Media
Mark Bender bring us Joomla! in the Press/Media — February 2011.
On the lighter side...
Yepr has contributed another Jane Beyond and friends cartoon.
The Joomla! Haiku: Share yours!
Prolific poets,
punsters and word masters too,
spread the Joomla! love...
Post your February 2011 Haiku here!
IN OUR NEXT ISSUE
We want to publish your Joomla! story in the next JCM issue! So take a look at our Author Resources content to get a better idea of what we are looking for, and then register to become a JCM author and submit your Joomla! story!