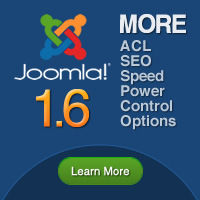 Joomla! 1.6.0 is now available for immediate download.
This new version of Joomla includes more power, more control, and more options than ever before.
Rebuilt from the ground up in much of the application, this latest Joomla release will delight the casual site builder while helping small, medium, and enterprise businesses succeed in delivering web sites, intranets and applications to their respective markets.
Delivering power through simplicity, Joomla 1.6 ensures its place as the popular CMS of its kind. Joomla 1.6 delivers new features to end-users and site administrators including:
Finer access controls for viewing and editing content with configurable user groups and viewing levels
A user-defined category structure, from simple one-level to complex multi-level categories
Installation improvements allowing for multiple extension installations in one package, updatable with a single click
Expanded language support for easy production of multi-lingual sites
Start and end publishing times for modules with more control over where they display,
Fresh new templates and semantic markup to please the eye as well as the search engines
More creative control through template styles
Hundreds of additional features, streamlining workflow and productivity
With Joomla 1.6 developers will build extensions faster through all phases of design, deployment and updates.
Advanced and rich API's will provide new opportunities to integrate, compete and expand into existing and new markets.
Style improvements give graphic designers more control and more flexibility to create the perfect effect for any web site and audience. Designers can now override virtually all output from the Joomla Administrator giving rise to new opportunities for functional, accessible or even mobile-friendly Administrator areas. Individual Administrator templates can be assigned to individual users allowing web masters to address any special needs.
To learn more, or to get started building your own Joomla 1.6 web site visit joomla.org/16 and download one of the world's most popular free Open Source content management systems.
We invite you to join the entire Joomla project in celebrating the arrival of Joomla 1.6.
Most importantly, congratulations to the hundreds of volunteers whose enormous effort contributed to its final release.
The translation of this Announcement was available in:
Spanish: Joomla!® 1.6 ¡ya ha llegado!
Thai: Joomla! 1.6 มาแล้ว!
Norvegian: Joomla! 1.6 er utgitt
Swedish: Joomla!® 1.6 är här!
Indonesian (Bahasa Indonesia): Joomla 1.6 Telah Datang!
Turkish: Joomla!® 1.6 Yayınlandı!
French: Joomla!® 1.6 est arrivé !
Serbian: Izašla je Joomla!® 1.6.0
Catalan: El Joomla!® 1.6 ja és aquí!
Dutch: Joomla! 1.6 nu beschikbaar!
German: Joomla! 1.6 fertig!
Hungarian: Megérkezett a Joomla!® 1.6!
Italian: E' arrivato Joomla!® 1.6.0!
Lithuanian: Joomla!® 1.6.0 išleista
Estonian: Joomla! 1.6 on saabunud
Romanian: A apărut Joomla!® 1.6
Macedonian: Joomla!® 1.6 дојде!
Albanian: Mbrriti Joomla 1 pik 6
Japanese: Joomla!® 1.6 が届きました!
Persian: joomla! سری ۱.۶ می رسد
Slovak: Joomla 1.6 je tu!
Polish: Joomla 1.6 wydany
Traditional Chinese: Joomla!® 1.6已經到來!
Russian: Здравствуй, Joomla 1.6!
Arabic: الإعلان الرسمي لإطلاق جوملا! 1.6
Portuguese: Joomla 1.6 já chegou!
Greek: Το Joomla 1.6 Έφτασε !!!
Ukrainian: Вийшла Joomla!® 1.6 — нові ідеї та ідеологія Joomla!
Khmer: Joomla!® ១.៦ បាន​មកដល់​ហើយ!
Thank you to the Translation Teams for their help!