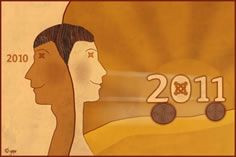 The January issue of the Joomla Community Magazine is here!
IN THIS ISSUE...
A special thanks to the members of the Joomla! community who are contributing authors in this month's issue: Theo van der Zee.
Editor's Introduction
Joomla! - We Keep It Movin' by Cristina Solana
Feature stories
Alice Grevet invites us to Party Like It's Joomla! 1.6
Jon Neubauer invokes Camelot: Ask not what Joomla! can do for you...
Matt Lipscomb offers up more Insights From: "The Official Joomla! Book" (Part 3)
Leadership Connections
Alice Grevet maps out the New Year with Open Source Matters: December 2010 Report
Matt Lipscomb talks with Paul Orwig, Sandra Warren, Ron Severdia and Louis Landry:The 2010 Video Interviews - Part 3
Website Case Studies
Robert Vining looks at migrating/upgrading from Mambo to Joomla! in this month's Website Case Study: Kineo E-Learning
Extensions and Services Evaluations
Team EAsE sez: Back it up, back it up, back it up! Backup Now! - You know you should!
Team EAsE Podcast: Passwords - Don't walk in front of a Bus!
JUGs and Events
Jon Neubauer gets the inside scoop on JAB11: Interview with Robert Deutz & Brian Teeman
Dianne Henning sends out a casting call for your Joomla! videos with Lights, Camera, Action!
Did you know…?
Milena Mitova makes it look as easy as ABC with her Tried and Tested Tools for Building a Teacher-Friendly School Website
Theo van der Zee shares some Zen enlightenment and explains What Joomla! and Bonsai Trees Have In Common
Designer's studio
Anthony Olsen offers his Top 10 Joomla! Template Picks for 2010
Administrator's toolkit
Nicholas Dionysopoulos takes us to the dark world of ownership, users, groups and permissions. 777: The number of the beast
Book Reviews
Bo Astrup reviews ChronoForms 3.1 for Joomla! Site Cookbook which serves up some tasty recipes for successful form configuration and implementation.
Joomla! in the Press/Media
Mark Bender logs in with Joomla! in the Press/Media - January 2011
On the lighter side...
Yepr pops a cork with Jane Beyond & friends
The Joomla! Haiku: Share yours!
Prolific poets,
punsters and word masters too,
spread the Joomla! love... Post your Haiku here for January 2011 This month's theme: Resolutions!
IN OUR NEXT ISSUE
We want to publish your Joomla! story in the next JCM issue! So take a look at our Author Resources content to get a better idea of what we are looking for, and then register to become a JCM author and submit your Joomla! story!