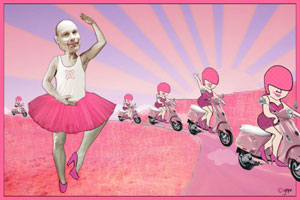 The October issue of the Joomla Community Magazine is here! Get the scoop on the latest how-tos, created by users like you. Get up to speed with the community's latest exciting news, projects and events, hand-picked with you in mind.
Got ideas or want to share your Joomla news? We are always delighted when community members submit their articles and stories to be published in upcoming JCM issues. Learn how easy it is to become a contributing JCM author and share your exciting story with the community!
In This Issue
We are proud to unveil a new and improved comments system, which is powered by CompoJoom Comments. The JCM team offers its thanks to CompoJoom developer Daniel Dimitrov for contributing his extension to the JCM and also for contributing his time to customize it for our needs.
Editorial
Pretty in Pink, written by Paul Orwig
Feature stories
David Hurley has written a story about overcoming client objections to using free open source software, and other business issues in How can you charge that? Joomla is free right?
Parth Lawate has contributed Our Joomla Story, which reveals one company's story about how they came to begin using Joomla and where they are now.
Alice Grevet has published an Interview with Michael Babker, where he talks about his desire to support Joomla!, and also about how members of the community joined together to show their support for him in a special way.
International stories
Community members have submitted five articles in four different languages for this issue.
Opportunities are now open for community members to submit articles in 17 different languages.
Extensions and Services Evaluations
Don't miss the first installment in Team EaSE's new series of detailed looks at Joomla Ecommerce extensions.
Website Case Studies
Cristina Solana and Brian "Sully" Sullivan have knocked one out of the ballpark with this month's Website Case Study: Big League Dreams.
Leadership Connections
Paul Orwig has published a volunteer profile of JSST, VEL, and Forum moderator mandville.
Paul Orwig has written a volunteer profile of French forum moderator Jérôme Bussière.
Joomla Events and Joomla User Groups
Brian Sullivan has written a story about Joomla!Day DC 2010 which will take place on October 16th.
Bo Astrup has contributed an article about Joomla!Day Denmark 2010 which is coming up on October 29 and 30.
Designer's Studio
Anthony Olsen has contributed an in depth look at the Ninjaboard forum extension in Blackbelt Forum Design with Ninjaboard.
Developer's Workbench
Jarrod Nettles has written about Extending Joomla's MVC Architecture.
Arlen Walker has delivered a profile of Peter van Westen in the The Joomla Setup series.
Administrator's Toolkit
Nicholas Dionysopoulos has contributed another article in his series about security issues in Only a Ninja Can Kill Another Ninja.
Nirmal Gyanwali has written an article about 7 simple tips for using your Joomla site.
Did You Know...?
Babs Gosgens has contributed a step by step guide on Customizing Joomla's Error Page.
On the Lighter Side...
Yepr has contributed another Jane Beyond and friends cartoon.