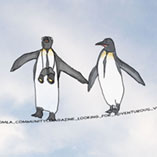 The Joomla! Project proudly announces the September 2010 Issue of the Joomla! Community Magazine. The magazine is a monthly collection of articles and illustrations highlighting events and accomplishments of the Joomla! community.
In this issue
Feature stories
International stories
Extensions and Services Evaluations
Website case studies
Leadership connections
Joomla! events and Joomla! User Groups
Joomla! in the press/media
Designer's studio
Developer's workbench
Administrator's toolkit
On the lighter side...
In our next issue
We want to publish your Joomla! story in the next JCM issue! So take a look at our Author Resources content to get a better idea of what we are looking for, and then register to become a JCM author and submit your Joomla! story!