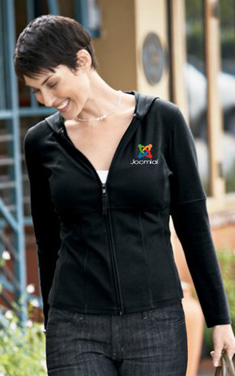 You may have noticed the Joomla Shop recently got a facelift to match the new Joomla.org front page design. Now, to really perk it up we've added new items too.
When your house doesn't seem to have enough official Joomla merchandise, the Joomla Shop has you covered. Expanding the offerings of the shop are three cool new products, guaranteed to make you the envy of open source enthusiasts everywhere.
Autumn is coming, and with it the brisk weather and need for an awesome Joomla-embroidered lightweight jacket. The Men's R-Tek Fleece Jacket is made from recycled material so it's both stylish and eco-friendly.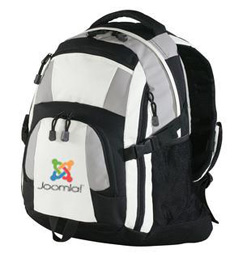 For those Joomla supporters who need to lug books, a computer, files, and more around, look no further than the new urban backpack. The Joomla Urban Backpack has a padded computer case, MP3 player pouch and chest/waist straps to make it useful on hikes. And, of course, it also has the beautiful Joomla logo embroidered on the front.
Women do Joomla too, and the shop hasn't forgotten that. Adding to the fall outerwear options is the Women's Soft Touch Hoodie. This hoodie is made from Pima cotton, and due to its infusion of Modal fibers it's luxuriously soft.
Support Joomla by patronizing the shop, and get some great stuff in return.