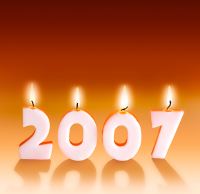 On the eve of New Year, imagine that Joomla! was a person.
If Joomla! was a person, its oxygen would be the myriad of active fingers on keyboards logging into the Joomla! website, the forums, extensions and developer zone, attending Joomla! Days and checking out hosts of community and fan sites.
Yes, yes, Joomla! has won awards. Many. But the accolades are not oxygen.
Joomla! feels great joy because the past 12 months has seen a mature ecosystem evolve; where people from all walks of life, all races and religions are equal. Equal to share, equal to learn, and equal to participate in an online community. And with those skills, everybody is able to craft a website, start a business, perhaps even ensure financial freedom for their family!
Even more pleasing to Joomla! is the fact that when it mattered most, when the spirit of open source was being tested; a group of people rallied around a small team with an idea; an idea to ensure the code remained free.
You may have heard the expression that "Ideas are bulletproof" but the Joomla! project would not have survived without the support of the core team, our working groups, forum users and our sponsors and friends. The list is very long. Joomla! has many friends.
Time to mention a few:
Rochen for providing such brilliant hosting and amazing support
Software Freedom Law Center for specialist legal advice
VA Software for providing our forge, possibly the biggest open source forge of its type
Towells Solicitors for generous support on legal matters and training
Google for its significant contribution to grassroots open source advocacy and, of course, the Summer of Code
So yes, the ethos survived and thrived yet the bulletproofing was in no small part due to the generosity of everyone, no matter how small their contribution. This time last year, we were celebrating freedom of choice and this year, it is fair to say we are all together.
Happy New Year to all. Happy New Year Joomla!