Joomla! won Best Linux / Open Source Project at UK Linux and Open Source Awards 2006, in London tonight.
This is the second year running, the Joomla! team has won the prestigious award. Louis Landry, Johan Janssens and Peter Russell accepted the award from LinuxUser and Developer magazine publisher Maggie Meer.
Johan described the win for Joomla! as "one for the community". "The buzz around the Joomla! project is driven by our huge user base and this translates into what is fast becoming the most popular open source framework going," Johan said.
Chris Adams, of Rochen, who is a major sponsor of the Joomla! project was nominated as Best Linux Open Source ISP / Internet Host. Unfortunately, Rochen missed out this year but it was great to have Rochen with us to celebrate. "Chris and the Rochen guys are part of the Joomla! family ... this is as much Rochen's award as it is the developers and the communities."
Day Two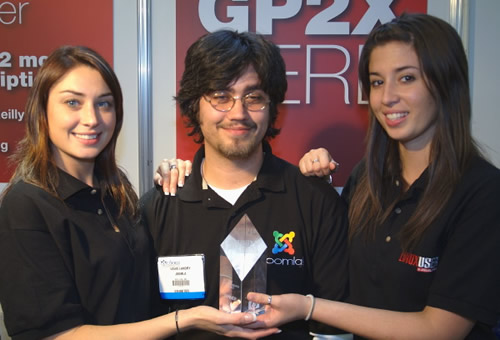 Day Two saw the team dealing with hundreds of inquiries. Many of the visitors to the stand were developers asking questions about Joomla! 1.5 and how to leverage the framework.
Johan was particularly popular with more than just the Joomla! folk. He held an informal conference at the Drupal stand, sharing ideas and fielding questions. Meanwhile, Louis was busy at the Joomla! stand and doing some "PR" work with the LinuxUser and Developer magazine girls.
We'd like to thank everyone: organisers, sponsors, Joomla! users and friends for their invaluable support and look forward to seeing you at future LinuxWorld events.
And finally, a special thanks goes to community members Waseem Sadiq and Mitchell Annable for their hard work at the stand.
Video Snippets
UK LinuxWorld 2006 is over but we've 'glued' together some video and stills courtesy of Johan and Pete. If you look carefully you will see Waseem, Mitchell, Pete and Louis speaking to visitors to the booth. This was a very busy event for Joomla! We had 700 bookmarks produced as handouts and by the end of the show we only had twenty left — which gives some indication of the number of people who stopped by and took a momento. As video cameraman Jinx aka "Jack Sparrow" says, "Stick to the Code!"