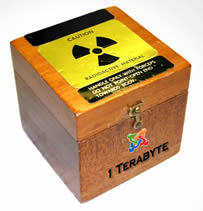 Joomla! is software; that we all know. But if its popularity was rated in radioactivity, it would well-and-truly be considered as having reached critical mass. The world's most-popular, award-winning, Open Source CMS (Content Management System) has topped One Terabyte (1024 Gigabytes) of data transfer for the month of April (excluding the Forge). This is enormous, and it reflects the exponential growth the project has been enjoying in recent times.
Sure, we know the metaphor defies nuclear physics, but you should appreciate the humour.
Core Team member Brad Baker cracked open the statistics package during the weekend to notice "all the dials were glowing". In fact, Brad and Chris Adams, of Rochen, have had to upgrade our servers to deal with amazing loads they've not seen before. Traffic to Joomla! sites has doubled since February.
"To cope with the server load, we increased the server RAM to 4 Gig," Brad said. "We knew that Joomla! was popular but it's a shock to see such huge demands and user growth. A lot of the traffic increase is due to the popularity of our unique Extensions site — as far as we know there is nothing as comprehensive as this anywhere in the Open Source CMS world."
"Smashing into the Terabyte zone is a milestone for Joomla! Moreover, we've had more than 130 million hits and about 1 million unique visitors during the last month. The Forum continues to grow: we've got 33,000 members (4,500 joining in April) and last month alone 37,000 posts."
We all remember the Intel advertisements with technicians in Intel "bunny" flame-proof suits; perhaps we'll have to buy Brad a Joomla! "bunny" radiation-proof suit. We will have further updates about other exciting Joomla! news this week.