Recently there was a highly visible change at joomla.org as we relaunched our forums on phpBB3 . Along with the changes to our sites, we also have a few changes inside the Joomla! project to announce. Please join us in recognising and honouring the work of three core team members who have recently stepped down from the team and in welcoming a new member.
Tonie de Wilde has been the wizard behind the curtain for many of our sites and infrastructure projects since he joined the team. Tonie announced his resignation a while ago via a post on our team blogs, but we want to acknowledge his work and efforts and thank him for everything that he has done. He continues to contribute to the community as a global moderator on the forums.

Robin Muilwijk has been an ever-present and positive force most recently as development working group coordinator along with Wilco Jansen. Without his help we certainly would not be where we are, and he will be sorely missed. Robin will remain as a forum global moderator and will continue to help us all as he has time.

Andy Miller has been the guiding light of design for the Joomla! project since its beginning. Everything from our website templates to the administrator user interface to anything else that needed to look good has had the great benefit of Andy's touch. Joomla! most certainly would not be what it is today without his vision, his talent and his devotion.

Last, but certainly not least, also join us in welcoming an old friend back to the core team. Andrew Eddie was the project leader during the birth of the Joomla! project. After a time away from the core team, he has rejoined to help Joomla! into the future. Andrew will be joining Wilco as Development Working Group Coordinator and taking over where Robin left off.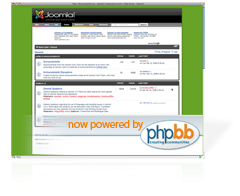 Over the last few months we have talked a lot with the phpBB crew as well as attended events together and have been continually impressed with their team and their software. With phpBB we have a cutting edge forum platform that is truly free and open source so that any modifications we make to improve the software can be easily given back to the entire phpBB community. The transition was a huge effort and we would like to thank the phpBB team, especially Josh, for helping in data migration as well as many other technical questions along the way. A special thanks goes out to our own Brad Baker who led this amazing effort. As with any change there will be hiccups along the way, but the transition has been very smooth. We look forward to a very bright future for our new forums.