Release News
Details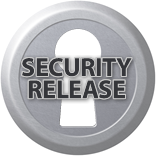 The Joomla Project is pleased to announce the immediate availability of Joomla 2.5.7. This is a security release. The Production Leadership Team's goal is to continue to provide regular, frequent updates to the Joomla community. Learn more about Joomla! development at the Developer Site.
The update process is very simple, and complete instructions are available here. Note that there are now easier and better ways of updating than copying the files with FTP.
Download
Note: Please read the update instructions before updating.
Instructions
Migration from Joomla! 1.5.x
Want to test drive Joomla? Try the online demo. Documentation is available for beginners.
Please note that you should always backup your site before upgrading.
Details
The Joomla! Project is pleased to announce the availability of Joomla! CMS 3.0 Beta1. Community members are asked to download and install the package in order to provide quality assurance for Joomla 3.0 scheduled for release on September 27, 2012.
Joomla 3 will be the next major release of the Joomla CMS, with Joomla 3.0 the first short term support release in its life cycle. The beta release follows two alpha releases.
What is this release for?
This is a beta release and not for use on production sites.
Extension developers are encouraged to work with this release in order to prepare extensions for the General Availability release of Joomla 3.0. Users are encouraged to test the package for issues and to report issues in the Joomla! issue tracker.
Details
The Joomla Project is pleased to announce the availability of Joomla 3.0 Alpha 2 for download. This alpha release is intended primarily for extension developers to test their extensions. More information is available on the Joomla Development Network.