Release News
Details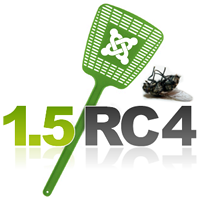 Just a week and a half ago people from all over the globe gathered in various locations to do a little Bug Squashing... today the fruits of their labour can be revealed as we announce the release of Joomla! 1.5 RC4. This release is code named Karibu which is Swahili for nearby, close, close by, at hand... all terms that we feel reflect the nature of this release.
Karibu marks an important milestone in 1.5's development, as barring any major issues we believe it will be the last release candidate, with the next release being the big one... Joomla! 1.5 stable. When that happens will in part be influenced by the Joomla! community...
More so than any previous, this release really has been one of unprecedented community involvement with people from all the various Working Groups as well as others banding together to help increase momentum as we head for a stable release. There is an enormous amount of energy building up around the 1.5 release and it is inspirational being a part of the process.
Details
Joomla! 1.5 RC3 [codename: Takriban] is now available for download. We've had the 'Red Barchetta' release candidate, then Endelo RC (meaning development, progress ... improvement). Takriban means 'almost, nearly'. Well folks we're almost, nearly there. Stable is getting very close.
It's roughly 10 weeks since RC1 and five weeks since RC2 and thanks to valuable community feedback, there have been improvements and bug fixes. The uptake of Joomla! 1.5 has been incredible, with many people diving in to the new API and finding ways to make it sing. The current Joomla! 1.5 template competition has further fuelled interest, as has the number of 1.5 native extensions finding their way onto the Joomla! Extensions Directory. Joomla! 1.5 is really gaining momentum.
Details
Joomla! 1.5 RC2 [codename: Endeleo] is now available for download. What better way to celebrate our 2nd Birthday! We chose Endeleo as the codename for this release candidate as it is Swahili for 'development, growth, progress ... improvement'. Highly appropriate we feel.
It is roughly five weeks after the RC1 release and we have made major improvements in certain areas of the 1.5 codebase. Time to share another RC with the community. Some improvements and areas of changes are listed below:
Router refactoring solving a range of bugs
Media Manager refactoring, moving this to MVC standards
Updated scripts (version); MooTools, tinyMCE, Xstandard
Core template improvements
Template language installer support
... and of course a lot more
Read more: Joomla! 1.5 RC2: Endeleo - Happy Birthday Joomla!