You can now proudly show your Joomla! colours with an official Joomla! Cap, ourJoomla! Laptop Bag, or both! We hope these new products will provideJoomla! fans with a strong visual statement to demonstrate their support. Allprofits from our online shop go back into the project to further itsnot-for-profit aims and ambitions. Look cool and support Joomla! at thesame time.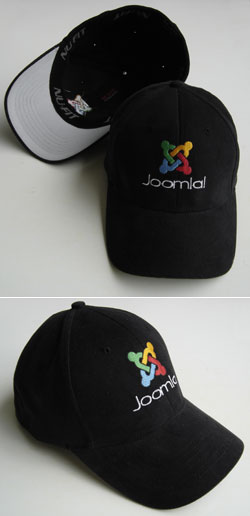 Joomla!Fitted Cap
The ultra-light brushed cotton of this low profile cap looks sensational withthe Joomla! embroidered logo. You'll enjoy the comfort of 96% cotton and justenough spandex to provide pleasant flexibility for long-term wear. The NU-FITband provides a fitted cap look and is designed to absorb moisture whilemaintaining its shape. You won't believe how comfortable this cap is to wear andyou'll look great from the first moment you put it on.
Price: $19.95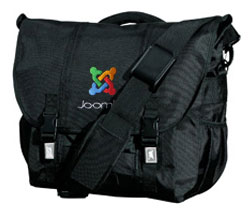 Joomla!Laptop Messenger Bag

If you rely on your laptop, you need a reliable laptop bag. Our Joomla! LaptopMessenger Bag is built for the long haul. With 1680-denier, advanced ballisticnylon and super-tough polyurethane coating on one side for water resistance. Thepadded computer compartment will hold up to a 15" lap top and is designed tokeep it safe, but this versatile travel companion can hold a whole lot more. Twosets of interior organizer pockets help keep everything you need at yourfingertips. Measuring 16.25" w x 12" h x 5.75" d, this solid unit features adurable, PVC bottom; an adjustable, padded shoulder strap with a guided releasebutton; a padded handle; superior stitching; and reflective accents. Carry theJoomla! embroidered logo proudly on this Laptop Messenger Bag.

Price: $49.95

Do you want to look sensational? Joomla! today announces the launch of two newproducts with the Joomla! embroidered logo in its official merchandise range.