General News
Details
New York, NY, - September 30, 2014 - Joomla, one of the world's most popular open source content management systems (CMS) used for everything from websites and blogs to custom apps and Intranets, today launched a new and improved Joomla Demo service in partnership with SiteGround web hosting company.
The Joomla demo became first available in 2010 and for the last 4 years it has been provided with the help of CloudAccess.net. The change in the official Joomla Demo partner comes after a public RFP by Open Source Matters, Inc. (OSM). Several hosting companies have submitted their proposals in response to the request and the SiteGround offer was chosen as the best fit for the objectives set by OSM for the future of the demo service.
The main objective of Joomla Demo is to allow anyone to test freely and easily the full capabilities of Joomla CMS. Through the demo service the user receives access to a free hosting account with a pre-installed Joomla. This saves not only any initial hosting costs, but also all the setup time and effort otherwise needed. Since its launch in 2010 the demo has been very successful and more than 450.000 accounts have been created.
With the new version of the demo launched, Joomla aims to further improve these results by increasing the number of new initial signups and at the same time increasing the percentage of demo accounts that remain active once the demo period is over.

Read more: Joomla! launches improved demo in partnership with SiteGround
Details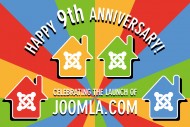 The September issue of the Joomla Community Magazine is here! Our stories this month:
Editors Introduction
Feature Stories
Yes! I accepted the #IceBucketChallenge :)
JWC 2014 is Just Around the Corner!
Joomla! Announces New Demo Site and Free Hosting Option!
Sitebuilders
10-Minute Joomla SEO & Conversion Makeover
Creating an Article in Joomla! Has Never Been This Easy!
Google Summer of Code
Reaching the End of Summer with SQL Optimization
Web Driver System Test of Joomla! CMS
Summary for Date Package, Part 1
Project News
Leadership Highlights September 2014
Joomla! on Lanyrd
Announcing the Update Working Group
Developers
Developing JSON API with Joomla Framework
Code Poetry at JDevCon
Book Reviews
Joomla! 3 - The Book for Everyone
Events
Fantastic Joomlaholics' Meeting in Jawor, Poland
Software Freedom Day 2014
Great Results at JoomlaDay México City 2014
Upcoming Joomla! Events - September & October 2014
Roundup from JUG Corner - August 2014
International Stories
Français
Et si on se penchait sur la sécurité de votre site Joomla! ?
Joomla! 3 Le livre pour tous ou l'art de partager un savoir
10 minutes : Référencement Joomla & conversions
La sale affaire de l'usurpation commerciale de marque
Le coeur de Joomla! est sa Communauté
Le cache de Joomla!
Socialement votre
Spanish
Se prende la JWC
Lo que se viene con Joomla! 3.4
Joomla! Mejorará servicios de hosting demo
El corazón de Joomla! es su comunidads
No pierdas de vista lo que ocurre en Joomla!
Certificación Joomla!
In our next issue
We want to publish your Joomla! story in the next JCM issue! So take a look at our Author Resources content to get a better idea of what we are looking for, and then register to become a JCM author and submit your Joomla! story!
Details
New York, NY, - August 28, 2014 - Joomla, one of the world's most popular open source content management systems (CMS) used for everything from websites and blogs to custom apps and Intranets, announced today that SiteGround web hosting company is the RFP winner for the ongoing official Joomla Demo and the new Free Joomla Hosting option. The partnership is expected to increase the number of new users to Joomla by making it easier to get started.
The opportunity to create a temporary Joomla Demo account has been available at demo.joomla.org since 2010, but included only a short 30-day free trial. With SiteGround as the new official host, the trial period will be extended to 90-days to give users more time to evaluate all the features of Joomla CMS. Additionally the sign up process will be faster and easier. This new version of the Official Joomla Demo will replace the current offer in September 2014. The Free Joomla Hosting option is expected to be launched later this year and it will allow the users to create and maintain a free Joomla website for unlimited time. The aim of both the extended Joomla Demo and the new Free Joomla Hosting is to make the start with the Joomla CMS easier and to increase the number of people, who choose Joomla as their favorite website platform.
The contract has been granted to SiteGround by Open Source Matters (OSM) - the not for profit organization, created to provide organization, legal and financial support to the Joomla project. The President of OSM, Sarah Watz says: "SiteGround has been a very active and appreciated member of the Joomla Community for a many years supporting Joomla at many events globally and providing Joomla hosting that makes it easy to get started. I'm pleased to see that this new partnership brings that great experience to all users who are just starting with Joomla. "
Lilyana Yakimova, who is the Marketing Director of SiteGround and will be in charge of the two projects, says: "We are very happy to be able to bring our Joomla hosting expertise to both these projects and to be a part of the future growth of this amazing CMS. I am also excited about the opportunity to work closely with the Joomla community, as it has always been a great example for me how the purely volunteer efforts of many people, who truly believe in an idea, can make a dent in the world, even in the IT world."
About SiteGround
SiteGround is a leading web hosting company with a special focus on Joomla CMS. Its hosting platform is optimized for additional Joomla security with the help of specific account isolation and in-house developed Joomla security plugin and proactive Joomla security monitoring. The performance of Joomla CMS and its loading speed is also enhanced on SiteGround servers with the help of a special caching solution, developed by the company. SiteGround has also been an active sponsor of multiple Joomla events, including the Joomla! World Conference 2012, 2013, and 2014, JAB 2012, 2013 and 2014 and more than 40 other local Joomla! Days for the last 3 years.
About Joomla!
Joomla is one of the world's most popular software packages used to build, organize, manage and publish content for websites, blogs, Intranets and mobile applications. With more than 3 percent of the Web running on Joomla and a CMS market share of more than 9 percent, the free open source software powers the web presence of hundreds of thousands of small businesses, governments, non-profits and large organizations worldwide like Citibank, eBay, General Electric, Harvard University, Ikea, McDonald's and Sony. The award-winning CMS is led by an international community of more than a half million active contributors, helping the most inexperienced user to seasoned web developer make their digital visions a reality. Joomla's power and extensibility has resulted in its software being downloaded close to 60 million times.
Editorial Contacts:
Sarah Watz for Joomla
+46708755115
This email address is being protected from spambots. You need JavaScript enabled to view it.
Lilyana Yakimova for SiteGround
+359885443999
This email address is being protected from spambots. You need JavaScript enabled to view it.