General News
Details
New York, NY, - August 28, 2014 - Joomla, one of the world's most popular open source content management systems (CMS) used for everything from websites and blogs to custom apps and Intranets, announced today that SiteGround web hosting company is the RFP winner for the ongoing official Joomla Demo and the new Free Joomla Hosting option. The partnership is expected to increase the number of new users to Joomla by making it easier to get started.
The opportunity to create a temporary Joomla Demo account has been available at demo.joomla.org since 2010, but included only a short 30-day free trial. With SiteGround as the new official host, the trial period will be extended to 90-days to give users more time to evaluate all the features of Joomla CMS. Additionally the sign up process will be faster and easier. This new version of the Official Joomla Demo will replace the current offer in September 2014. The Free Joomla Hosting option is expected to be launched later this year and it will allow the users to create and maintain a free Joomla website for unlimited time. The aim of both the extended Joomla Demo and the new Free Joomla Hosting is to make the start with the Joomla CMS easier and to increase the number of people, who choose Joomla as their favorite website platform.
The contract has been granted to SiteGround by Open Source Matters (OSM) - the not for profit organization, created to provide organization, legal and financial support to the Joomla project. The President of OSM, Sarah Watz says: "SiteGround has been a very active and appreciated member of the Joomla Community for a many years supporting Joomla at many events globally and providing Joomla hosting that makes it easy to get started. I'm pleased to see that this new partnership brings that great experience to all users who are just starting with Joomla. "
Lilyana Yakimova, who is the Marketing Director of SiteGround and will be in charge of the two projects, says: "We are very happy to be able to bring our Joomla hosting expertise to both these projects and to be a part of the future growth of this amazing CMS. I am also excited about the opportunity to work closely with the Joomla community, as it has always been a great example for me how the purely volunteer efforts of many people, who truly believe in an idea, can make a dent in the world, even in the IT world."
About SiteGround
SiteGround is a leading web hosting company with a special focus on Joomla CMS. Its hosting platform is optimized for additional Joomla security with the help of specific account isolation and in-house developed Joomla security plugin and proactive Joomla security monitoring. The performance of Joomla CMS and its loading speed is also enhanced on SiteGround servers with the help of a special caching solution, developed by the company. SiteGround has also been an active sponsor of multiple Joomla events, including the Joomla! World Conference 2012, 2013, and 2014, JAB 2012, 2013 and 2014 and more than 40 other local Joomla! Days for the last 3 years.
About Joomla!
Joomla is one of the world's most popular software packages used to build, organize, manage and publish content for websites, blogs, Intranets and mobile applications. With more than 3 percent of the Web running on Joomla and a CMS market share of more than 9 percent, the free open source software powers the web presence of hundreds of thousands of small businesses, governments, non-profits and large organizations worldwide like Citibank, eBay, General Electric, Harvard University, Ikea, McDonald's and Sony. The award-winning CMS is led by an international community of more than a half million active contributors, helping the most inexperienced user to seasoned web developer make their digital visions a reality. Joomla's power and extensibility has resulted in its software being downloaded close to 60 million times.
Editorial Contacts:
Sarah Watz for Joomla
+46708755115
This email address is being protected from spambots. You need JavaScript enabled to view it.
Lilyana Yakimova for SiteGround
+359885443999
This email address is being protected from spambots. You need JavaScript enabled to view it.
Details
Joomla!®, one of the world's most popular open source content management systems (CMS) used for everything from websites to blogs to custom apps to Intranets, is delighted to be supporting the Grace Hopper Celebration of Women in Computing as a Silver Sponsor. The event is the largest of its kind in the world, with over 4,700 women coming together from 8-10 October in Phoenix, Arizona (USA) to learn, share and inspire.
Read more: Joomla Supports Grace Hopper Celebration of Women in Computing as Silver Sponsor
Details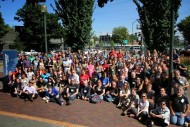 The August issue of the Joomla Community Magazine is here! Our stories this month:
Editors Introduction
Feature Stories
Joomla Project and Product Marketing. One Can Not Exist Without the Other!
Pizza, Bugs and Fun in The Netherlands
Cum Munus - J and Beyond 2014
The Nasty Business of Passing Off
Talking Joomla! at WordCamp?
The Heart of Joomla! is the Community
Developers
Video: David Hurley Becomes Joomla! 3.4 Release Leader
Introducing The Wheel (The Power of Collaboration)
Project News
Leadership Highlights August 2014
Events
Roundup from JUG Corner - July 2014
Upcoming Joomla! Events - August & September 2014
JoomlaDay Minnesota and the Hope for a Local Joomla! Community
Joomla! Bug Sprint in Manchester
Designers
Book Reviews
Google Summer of Code
Keep Calm and Write Test
An Easy Way to Benchmark a Webserver
Project: JIssues Tracker Status Update
Why Simple Structured Data (Microdata, RDFa) isn't so Simple
International Stories
Français
Créer facilement son site avec Joomla! (partie 2)
Le Tour d'Adresse du Développeur
J'ai le même problème...
Portuguese (Brazil)
Joomla Day Cidade do México 2014
Spanish
Resultados del Joomla Day Ciudad de México 2014
01. Instalar VirtueMart 2.6.6
Joomla! Para Diseñadores
Tutorial: MasterBootstrap, instalación y puesta a punto
Joomla en las Administraciones locales
¿Qué podemos hacer para cambiar la tendencia?
In our next issue
We want to publish your Joomla! story in the next JCM issue! So take a look at our Author Resources content to get a better idea of what we are looking for, and then register to become a JCM author and submit your Joomla! story!