General News
Details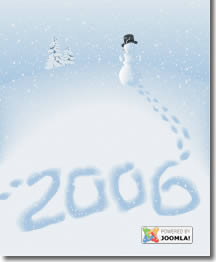 With a New Year around the corner, the Joomla!™ Team would like to wish the community the best.
Thanks to those of you who've taken the time to write with your wishes for the year end.
Our happy worker bees have been continuing development during the Festive Season and released 1.0.5 in time for Christmas.
We've got some more good news coming in the New Year. In fact, we've already hinted a couple of times about raising the bar in terms of power and standards for third party developers. We've also got some news about a forthcoming release with both feature and functionality improvements. 2006 will see us build on new technologies enhanced by a more robust, standardised, modern codeset.
What are we saying here? Well I guess you'll need to wait to see the announcement on January 1st!
Until then, enjoy your New Year celebrations and if you're not partying too hard drop by for a Joomla!™ Powered 2006.
Details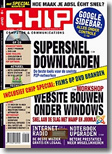 Two Dutch mainstream information technology magazines have delivered Christmas/New Year treats for current and future Joomla!™ users.
CHIP magazine's article focuses on Windows environment information technology and emerging trends, and features Joomla!™ in it's latest edition, as does PC Active magazine.
The CHIP article takes readers through a step-by-step tutorial about how to set up a website locally on their PC, using Joomla!™. The solution they've recommended is WAMP (from Wampserver), delivering a solid local server environment for the user to try Joomla!™ on their PC without needing a dedicated web host.
The PC Active article backgrounds the developers and community splitting from Mambo, and notes that the Joomla!™ forums are vibrant and active and our teams are working hard to make the whole CMS/Framework more easy to use by Third Party Developers (3PDs).
Details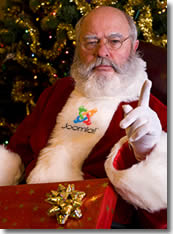 With 2005 on the turn to 2006, festivities, celebrations and holidays in full swing, the Joomla! team sends Season's Greetings to all community members.
From what has been an eventful year, 2006 promises to see Joomla! become the default Open Source CMS/Framework of choice. The development team wants everyone to know we're focused on creating something special that becomes the most popular web publishing tool around.
The list of supporters of the Joomla! project is way too long to mention everybody. But let's mention a few stars ... 16,000 plus subscribers to our forums. The contribution in the forums is what makes the heart and soul of any Open Source project tick. Thanks guys for being there and providing such brilliant support, guidance and mentoring for others.
Sharing is what you've been doing — sharing makes Joomla! stronger.
We must not forget the third party developers who've supported us through thick and thin. The faith you guys have shown in the project has been and will be rewarded in spades. We have a few great new ideas to help you further your 3PD projects, so please stay tuned in the new year.