General News
Details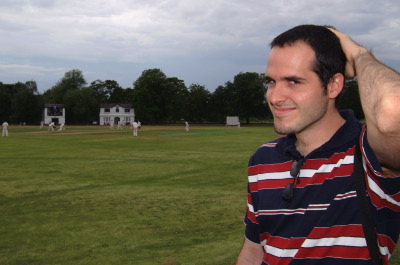 Joomla! Lead Developer Johan Janssens has been in a coding pressure-cooker for almost a year now. With a free day on offer before Sunday's UK Joomla! Day, we took him away from all the code to enjoy the Yorkshire countryside, some pub grub ... and the gentle game of cricket.
Yorkshire is synonymous with cricket — think Geoffrey Boycott; earnest, stoic, stubborn and occasionally downright cantankerous. In fact, Johan spent his first night at an old coal mining village, near where Mr Boycott was born.
We hooked up with Chris Adams, of Rochen, in Leeds, and travelled due west by train to World Heritage Site, Saltaire. After some good food at a real Yorkshire pub, we ventured down to Saltaire's cricket ground. In keeping with our olde-worlde theme, we used the oldest means of transport available to reach the cricket pitch, the Shipley Glen Tramway.
Details

PacktPub.com this week launched its inaugural Content Management System Award with a prize of US $5000 to the winning project, second prize $3000 and third prize $2000.
The award demonstrates Packt's commitment to the open source community and its users. Packt has a long and successful history of publishing user-friendly technical books for software users. They were one of the first, if not the first, publishers to create an English version Joomla! web tutorial and guide.
The award process involves Packt taking nominations from users and the top five "most nominated" or voted CMS' will be then considered by three independent experts. You can nominate Joomla! here.
Packt's timeline for the award sees nominations close on 01 Sept, the final five announced on 04 Sept, the judges voting work starts on 12 Sept and ends 7 Nov. The judges decisions and the announcement of the top three is scheduled for 14 November.
So for Joomla pros, users and fans, we need you to click here, type over there and then cross our fingers and wait. We may be only a click of your mouse button away from a successful nomination.
Details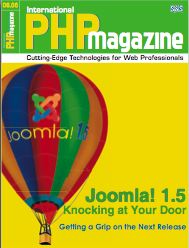 Core team member Mitch Pirtle has hit the virtual newsstands in a big way as the cover story author of this month's International PHP Magazine.
Mitch was invited to put pen to paper about forthcoming Joomla! technologies and proved a more than worthy scribe, as evidenced by landing the front page. He manages to encapsulate a lot of technical terms into a very good read for Joomla! users of all levels of expertise.
If you're wanting to know what's changing in Joomla! or what advantages there are in the new version over the 1.0 series, Mitch takes all of this in his stride covering the power of the API, new templating system, internationalisation and much more.
Sure, some of you already know all this and that Joomla! is the best open source CMS on the planet, but you can always use a high-quality feature such as this in your Joomla! brag book.
International PHP Magazine has provided this download link for a FREE sample of the entire article.