General News
Details
Today marks a defining moment in the Joomlasphere, which sees the launch of our gForge. Yes, the new 'V8 hot rod' has arrived — and we believe it will provide the best development environment for a number of reasons but primarily to future-proof and cope with huge load.
The Paint Dried Today
When we announced the move last week, we still had plenty left to do to 'Pimp our Ride' but the team has done an amazing job. Today we've sent out emails to project administrators to inform them they will get best benefit by: 1. registering on the new Forge ASAP, 2. reconciling their download links on their Extensions Directory projects.
Details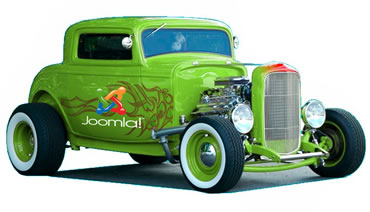 Some blips in the provision of services on our Forge has provided the Joomla! team with the opportunity to audit the way the developer experience works. Joomla! has grown so quickly that the services of our forge have fallen victim to that exponential growth.
To remedy the situation, we're announcing the coming of a brand spanking new Forge. Bigger, faster and optioned up with a fancy new paint job. While we can't reveal all of the detail or what's coming in the next week, the Core Team feels the solution will further excite the creative development around our framework and set yet another Open Source benchmark.
Details
Google has confirmed it will sponsor the Google Summer of Code 2007, and Joomla! will again be participating in this great event. Last year we had six sponsored projects, guided by twelve mentors and six students working on research for the future Joomla! 2.0. This year we will try to be even more productive and more successful than we were in 2006.

For Joomla!, the Summer of Code brings several benefits. It helps bring fresh ideas and talents together in a co-ordinated way and has provided the project with four new development workgroup members who are now active in creating Joomla! 1.5. We expect one of these students to be a mentor within the 2007 Summer of Code Campaign.