General News
Details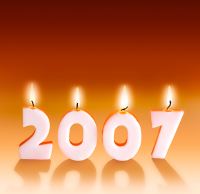 On the eve of New Year, imagine that Joomla! was a person. 
If Joomla! was a person, its oxygen would be the myriad of active fingers on keyboards logging into the Joomla! website, the forums, extensions and developer zone, attending Joomla! Days and checking out hosts of community and fan sites.
Yes, yes, Joomla! has won awards. Many.  But the accolades are not oxygen. 
Joomla! feels great joy because the past 12 months has seen a mature ecosystem evolve; where people from all walks of life, all races and religions are equal.  Equal to share, equal to learn, and equal to participate in an online community.  And with those skills, everybody is able to craft a website, start a business, perhaps even ensure financial freedom for their family!
Even more pleasing to Joomla! is the fact that when it mattered most, when the spirit of open source was being tested; a group of people rallied around a small team with an idea; an idea to ensure the code remained free.
You may have heard the expression that "Ideas are bulletproof" but the Joomla! project would not have survived without the support of the core team, our working groups, forum users and our sponsors and friends.  The list is very long.  Joomla! has many friends.
Time to mention a few:
Rochen for providing such brilliant hosting and amazing support
Software Freedom Law Center for specialist legal advice
VA Software for providing our forge, possibly the biggest open source forge of its type
Towells Solicitors for generous support on legal matters and training
Google for its significant contribution to grassroots open source advocacy and, of course, the Summer of Code
So yes, the ethos survived and thrived yet the bulletproofing was in no small part due to the generosity of everyone, no matter how small their contribution.  This time last year, we were celebrating freedom of choice and this year, it is fair to say we are all together.
Happy New Year to all.  Happy New Year Joomla!
Details
Joomla! won
Best Linux / Open Source Project
at UK Linux and Open Source Awards 2006, in London tonight.
This is the second year running, the Joomla! team has won the prestigious award.  Louis Landry, Johan Janssens and Peter Russell accepted the award from LinuxUser and Developer magazine publisher Maggie Meer.
Johan described the win for Joomla! as "one for the community".  "The buzz around the Joomla! project is driven by our huge user base and this translates into what is fast becoming the most popular open source framework going," Johan said.
Chris Adams, of Rochen, who is a major sponsor of the Joomla! project was nominated as Best Linux Open Source ISP / Internet Host.  Unfortunately, Rochen missed out this year but it was great to have Rochen with us to celebrate.  "Chris and the Rochen guys are part of the Joomla! family ... this is as much Rochen's award as it is the developers and the communities."
Details

The Joomla! open source content management project unveiled its speakers and panelists for the SYSTEMS 2006 conference in Munich Germany on October 23rd – 27th at the New Munich Trade Fair Centre in Munich/Riem.
SYSTEMS is the leading Business-to-Business Trade Fair for IT, Media and Communications and is held in Munich, Europe's largest high-tech and media location. This year, the conference expects over 1000 exhibitors and 50,000 visitors.
Joomla! core development team members Alex Kempkens, Marko Schmuck and Wilco Jansens will present in Munich on a variety of Joomla! topics and provide detailed demonstrations of the forthcoming release of Joomla! 1.5. Specifically, Marko Schmuck will present his new Search-Engine-Optimization extension openSEF (www.j-prosolution.com), Alex Kempkens (www.thinknetwork.com ) will introduce a new version of the multilingual component Joom!Fish and the recent book "Joomla! 1.5", finally Robert Deutz (www.rdbs.de ) will demonstrate how to take advantage of the advanced template and accessibility features within Joomla! 1.5.
Attendees can interact with the Joomla! team and get receive demonstrations of Joomla! 1.5. in Hall A3, Booth 542. The Joomla! project would like to personally thank Messe Munich for support and the invitation to attend the conference.