General News
Details
Packt is pleased to announce the launch date of the 2007 Open Source Content Management System Award as Monday July 16. Following on from the success of last year, Packt has expanded the Award for 2007 with an increase in prize money and the addition of new categories.
As many of you know, Joomla! won the award last year and there is no doubt that community support through voting was a significant factor in our success. Fingers crossed, you guys can help us win again!
Details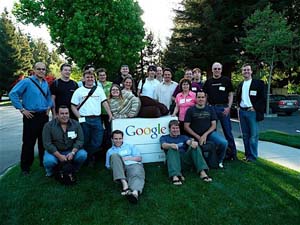 The recent Joomla! Summit, held last month at Google, provided the opportunity for core team members to consider a number of project position appointments. The team supported a vote for the appointment of Johan Janssens, Louis Landry and Shayne Bartlett as project managers. The new appointments of project managers provides a remit to work in facilitation roles with working group coordinators. This move takes the functional roles which the project has been working with from interim phase to a more formal structure.
We also take this opportunity to recognise three champions of open source. Core team members David Gall, Emir Sakic and Rey Gigataras are stepping down from core team positions. David, who worked in translations and on several Open Source Matters issues, is moving forward with personal goals. Emir, whose history with the project goes back to the Mambo days — as does Rey — has a range of projects on the boil. And finally, Rey, the stalwart 'Mr Fixit' of Mambo and Joomla! off to pastures new.
Details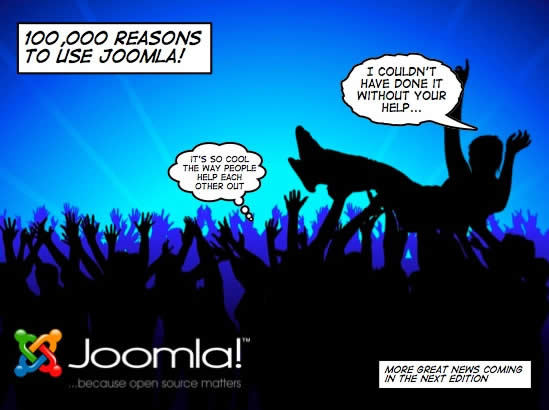 It's official — Joomla! has the largest Open Source CMS focused forum on the planet. In fact, by reaching 100,000 users signed up (validated), Joomla! contends with some of the biggest forums on the Internet. We reckon forum.joomla.org is in the top 10 of all comers.
Reaching this 100k watershed is significant as the heart of this reveals true Open Source source spirit with many of these members sharing their knowledge and experience. And this strength — the backbone of the project in many ways — manifests in a mature 'eco-system' that's self-supporting. Thousands of helping hands and minds.
"Joomla's success rides on the support available to end users through (among other places) our community forum," said Core Team member Brad Baker. "Time and time again, we hear users thanking us for the software, yet, without the active community Joomla! would not be where it is today ... one of the world's most popular Open Source projects. You are all a part of this and deserve a hearty thanks."