General News
Details
Joomla! will be presented for the first time in Joomla!Day format for Joomla!Day USA (East) in New York, next month. So if you're a Joomla! devote
e
, this is an event not to be missed. Inspired by the incredible success of J!Days East Coast and Central, New York looks set to be even more successful.
The event is open to anyone, and will be taking place in the heart of New York City,
at Google's East Coast headquarters on Saturday, October 13, 2007 — 9.30am-5pm ET.
If you don't know Joomla! then this event is for you. If you do know Joomla! it's for you too! If you want to learn how to launch a website in minutes for a business or other endeavor, this event will provide you with the foundations of how to manage the world's most popular open source content management system. If you want to write code for Joomla! you will also be able to meet fellow coders and meet some of the people responsible for creating Joomla! 1.5. Joomla!Days are for anyone who wants to learn, create and improve their skills.
Confirmed speakers for the event include: Joomla! lead developer Louis Landry, Software Freedom Law Center lawyer James Vasile and Open Source Matters board member Ryan Ozimek. Other speakers are likely to be added as the event date gets closer.
The format of the Big Apple J!Day includes a cross between structured conference and audience-generated topics. Morning sessions will be structured and afternoon breakouts will be user-generated. By attending you will get the chance to network with fellow Joomla! professionals and users.
Some other attractions being organised for the Day include:
a 'hack' room we'll set up
learning how to use Joomla! in non-profits
how to market your Joomla! site, how the GPL is used in Joomla!
see Joomla! 1.5 'under the hood'
Register at http://www.joomladayusa.org
Details

Joomla!, for the second time running, has been nominated as a finalist for the 2007 PacktPub Open Source CMS Awards.

Our project has successfully made it to the final five of in two categories of the prestigious PacktPub open source CMS (content management systems) awards. This year Joomla! is nominated in the Overall Winner and Best PHP Open Source CMS. We were fortunate enough to win the top prize last year.

Vote for Joomla! as OVERALL WINNER here.

Vote for Joomla! as BEST PHP OPEN SOURCE CMS here.

Since Joomla! won last year we've seen some huge advancements in our framework, with Beta and Release Candidate versions of our re-factored Joomla! 1.5. Joomla! can claim to have on of the largest user bases in the CMS world, with millions of installations on sites ranging from the United Nations, to Porsche to zillions of hobby sites. The flexibility and ease-of-use is what makes Joomla! so appealing to users. With 1.5 stable on the horizon, the future is looking even stronger for Joomla!

See what some independent UK technologists think about Joomla! 1.5.

Once again, thanks to PacktPub for creating a buzz and investing in the open source community as a whole. All projects benefit from Packt's interest and support.
Details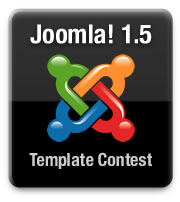 With the release of the eagerly anticipated Joomla! 1.5, the time hascome to allow one of the skilled designers in our midst to become apart of the success that will be Joomla! 1.5.  The Joomla! 1.5Template Contest is open to anyone with a passion for design and adesire to have their design seen and used by millions of people globally as theydownload and install the stable release of Joomla! 1.5. 
Contest Prizes
The five finalists will each receive a Joomla! prize package that includes a Joomla! laptop bag, Joomla! shirt, Joomla! hat, and a Joomla! 256MB USB memory stick.
The grand prize winner will have his/her template added as the third template to the Joomla! 1.5 core distribution to be downloaded in every Joomla! 1.5 package.
Contest Timeline
The Joomla! 1.5 Template Contest procedure will be very similar to the Joomla! Logo Contest from 2005:
Contestants will have until the 22nd of September 2007 to submit their designs via a contest thread set up in the Joomla! forums.
Entries are submitted by way of a post titled "Template Contest Entries" which includes a brief introduction to your design and a link to the template package.  The template package must be available without registration and must be available until the five finalists have been announced.
At 23:59 GMT on the 22nd of September 2007 the thread will be locked and no further entries will be allowed.
The Core Team will go through all contest entries and create a short list of their favourite 5 designs that meet the design and technical requirements of the Template Contest.
At 23:59 GMT October 6

th

2007 the contest finalists will be revealed in a poll thread on the Joomla! Forums and all five templates will be made available via a demo site provided for the duration of the voting period.
Forum members will have exactly one week, until the 23:59 GMT October 13

th

2007 to cast a vote for their favourite design.
The winner of the competition will be revealed in the final release of Joomla! 1.5.
Contest Rules and Requirements
Template packages must be installable via the Joomla! 1.5 extension installer.
All template files must be licensed under the GNU/GPL version 2.
Templates must be an original work of the person making the design entry.
Templates must run

natively

in Joomla! 1.5.  They must not require Legacy Mode in order to function.
Templates must use the Joomla! sample content as-is and not require any moving/modifying of modules/content.
Templates must utilize at least one Joomla! 1.5 template parameter.
Templates must provide an example of custom module chrome or template overriding.
Templates must be

valid XHTML

1.0 and

CSS.

Templates should look and function similarly in Internet Explorer 6+, FireFox, Safari, and Opera.
Templates should not break with any of the sample content.
Core Team members may not submit entries in the template contest.