General News
Details
Packt is pleased to announce the launch date of the 2007 Open Source Content Management System Award as Monday July 16. Following on from the success of last year, Packt has expanded the Award for 2007 with an increase in prize money and the addition of new categories.
As many of you know, Joomla! won the award last year and there is no doubt that community support through voting was a significant factor in our success. Fingers crossed, you guys can help us win again!
The 2006 Open Source CMS Award was designed to encourage, support, recognize and reward an open source Content Management System (CMS) selected by a panel of judges and visitors to PacktPub.com. Following 72 nominations and 15,000 votes, Joomla! was eventually declared the winner. The 2007 Award will continue to support open source Content Management Systems and in order to reward more than one project, Packt has developed new categories for a wider variety of CMS's to benefit from. These are broken down into five different categories including the overall winner and the most promising Open Source CMS:

Overall Winner

Most Promising Open Source CMS

Best Open Source PHP CMS

Best Other Open Source CMS

Best Social Networking CMS
The Award fund for 2007 has doubled, with $20,000 divided amongst the five winners. The overall winner will receive $5,000, with second and third places receiving $3,000 and $2,000 respectively. The most promising Open Source CMS will receive $2,000 with two runners up each receiving $1,000. The winners of the remaining three categories will each be awarded $2,000.

The first stage of the Award is nominations, which begin on July 16. This is open for visitors to PacktPub.com to submit their choice of Open Source Content Management System that they would like to go through to the final stage. The CMS's that receive the most votes in their category will go through to the final stage, which starts in September.
Details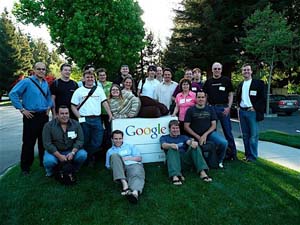 The recent Joomla! Summit, held last month at Google, provided the opportunity for core team members to consider a number of project position appointments. The team supported a vote for the appointment of Johan Janssens, Louis Landry and Shayne Bartlett as project managers. The new appointments of project managers provides a remit to work in facilitation roles with working group coordinators. This move takes the functional roles which the project has been working with from interim phase to a more formal structure.
We also take this opportunity to recognise three champions of open source. Core team members David Gall, Emir Sakic and Rey Gigataras are stepping down from core team positions. David, who worked in translations and on several Open Source Matters issues, is moving forward with personal goals. Emir, whose history with the project goes back to the Mambo days — as does Rey — has a range of projects on the boil. And finally, Rey, the stalwart 'Mr Fixit' of Mambo and Joomla! off to pastures new.
More information
The Summit provided the opportunity for the Core Team and Open Source Matters Board of Directors to scope out a range of significant functional issues. The process involved discussion and debate of key issues with guidance facilitated by hand-picked experts. The licensing discussion was of primary importance, given the forthcoming release of Joomla! 1.5. More information will be released as progress is made. We're making some good progress with the help of James Vasile of the Software Freedom Law Center — but we are not there yet. As soon as we have something concrete, we will start the external communication of this progress. Moreover, working to improve our communication channels was discussed and we've decided to endeavor to put out monthly reports as blog posts from working groups.
Thank you very much
The combined Summit and Joomla!Day USA (West) provided an amazing focus for core members and community interaction. There's no substitute for face-to-face meetings and collaboration. An event of this scale could not have happened without the most generous support of Google — a special thanks to Leslie Hawthorn for creating the opportunity, great food and opening up the Googleplex to open source geeks. We'd also like to thank Allen Gunn from Aspirationtech for facilitating the Summit. Last but not least, we'd like to thank the community ... everyone from the mom and pop hobbyists to professional website developers. We are an interesting bunch indeed. As a key part of the open source recipe, community thinking is always paramount to our considerations.
Details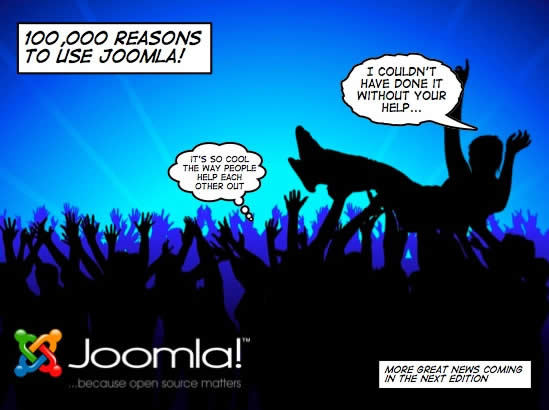 It's official — Joomla! has the largest Open Source CMS focused forum on the planet. In fact, by reaching 100,000 users signed up (validated), Joomla! contends with some of the biggest forums on the Internet. We reckon
forum.joomla.org
is in the top 10 of all comers.
Reaching this 100k watershed is significant as the heart of this reveals true Open Source source spirit with many of these members sharing their knowledge and experience. And this strength — the backbone of the project in many ways — manifests in a mature 'eco-system' that's self-supporting. Thousands of helping hands and minds.
"Joomla's success rides on the support available to end users through (among other places) our community forum," said Core Team member Brad Baker. "Time and time again, we hear users thanking us for the software, yet, without the active community Joomla! would not be where it is today ... one of the world's most popular Open Source projects. You are all a part of this and deserve a hearty thanks."
What's particularly heartening is that despite Joomla's phenomenal growth, the forum continues to engender friendly, helpful advice. When we started Joomla! back in September 2005 there were naysayers, and plenty of them. In fact one so-called industry expert said Joomla! would "be a niche CMS". There's something rather gratifying in proving people wrong. Everyone who's taken the time to answer a question, solve a problem or submit a bug report is part of this success.
We could start quoting the ever-increasing statistics in this story however a quote from a pragmatic new user sort of sums up how things are working:
"To make my decision, I finally decided to look at the community that surrounded and supported each product. As a test, I made an inquiry into the general support message boards of each product. My Joomla post received a number of helpful responses in a relatively short time frame. My ****** (another Open Source software) post languished for days, and even after asking a second time for feedback, was still unanswered. As I'm going to be learning each system, and relying on others to help me, this experience ultimately swung the pendulum to Joomla."
Okay, we couldn't resist, here's some numbers:
An average of 172 new user sign-up each day
765,000 posts
More than 1200 posts daily
Again, congratulations particularly to those of you who've taken the time to extend a helping hand. We are made stronger by those helpful souls around us.
Free A3 Poster
To celebrate this special occasion, download this high-resolution A3-size PDF poster (for personal, non-commercial use only).