General News
Details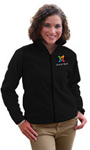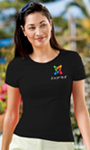 The Joomla! Shop has expanded its merchandise and presents to you three new products sure to please the ladies: T-shirts, Tank tops and Fleece Jackets. Yes, this sensational moment is reserve for ladies only unless the men wish to take this opportunity to give an excellent gift to their love ones.
Our customized products promote Joomla! in a bright but professional way. All profits from our online shop go back into the project to further its not-for-profit aims and ambitions.
Look cool and support Joomla! at the same time!
Details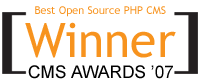 Packt Publishing today announced Joomla! as the winner of "Best PHP Open Source Content Management System" for 2007.
The award marks the second time Joomla! has won a prestigious Packt prize. Runners up were Drupal, followed by e107.
The judges indicated that Joomla! is 'possibly one of the biggest success stories in open source of late'. "Its first release came in only September 2005 and since then has grown to be one of the most downloaded Content Management Systems on the web.

The judges also noted a number of factors that helped Joomla! secure the Award. "Most notably its good front-end for administrators and end-users, which gives users a simple and traditional company website straight out of the box. Once again, judges commented on the size and responsiveness of the community, which translates to potential problems being dealt with quickly."
Joomla! Project Manager Johan Janssens said adding this latest award to Joomla's steadily growing collection of prizes was recognition of the project as a whole.
"While I can't pretend to read judges minds, I'm sure Joomla's wealth of community and focus on creating the foundations of a next generation framework, demonstrated the true strengths of the project," he said.

"I'd also like to thank Packt for its continued support through its publications and awards. Packt understands open source spirit, that's for sure."
NEWSFLASH: Packt confirmed that Joomla! 1.5 (despite still being in Release Candidate) was basis for their decision. Great news for anyone still sitting on the fence, wondering just how good the new generation framework is!

Details
Joomla! will have a presence at the upcoming Ontario Linux Fest Conference.
The Fest begins with a Welcome Party Friday evening October 12th. On Saturday, October 13th will be all day conferences and presentations as well as the corporate & dot org exhibitors. Saturday evening will be the Reception as well as the draw for door prizes. Joomla! will be represented by Jason Kendall, Alan Langford and Joe Sonne.
The Fest is held at the Toronto Congress Centre, 650 Dixon Road, Etobicoke, Ontario Canada. Drop by and visit Joomla!'s booth. There will also have a Hands on Demo session (10:30am) and a Birds of a Feather session (8:30am).
You need to register for the event online at www.onlinux.ca . Admission is $40, $20 for students.
The Joomla! Team is looking forward to meeting as many local & out of town Joomla! fans as possible, so plan to attend!
This event is promising to be a great time!