Joomla! News
Details

Category: Project Release News

Joomla! 1.0.11 [ Sunbow ] is now available as of Monday 28th August 2006 24:00 UTC for download here and is being designated a critical security release.
All existing Joomla! users must upgrade to this version, due to several High Level vulnerabilities that affect all previous versions of Joomla!
We have always been fully committed to a security first principle and new initiatives have and will continue to be started to reinforce and continue this principle. Joomla! 1.0.11 highlights a redoubled effort to put security at the forefront of everyones lexicon.
Like any and all software, security is a continually evolving and constant battle between application developers and hackers. The increased security threats discovered in the Joomla!Universe indicate nothing more than an increasing usage of Joomla! throughout the world and thus an increasing interest from hackers.
It does however serve to remind everyone, both application developers and application users that security is an eternal vigil and one cannot rest.
Details

Category: General News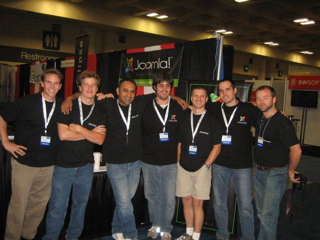 We wanted everyone to see the buzz at the San Francisco LinuxWorld, so we set up a webcam for everyone to check things out.
Johan Janssens and Louis Landry are attending the Joomla! stand at the show. They guys have been inundated with visitors who want to know more about Joomla!
Details

Category: General News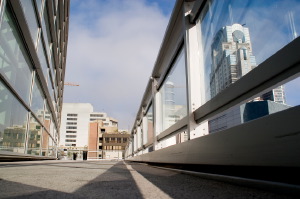 Joomla!, the world's most popular Open Source CMS, will be participating at its first San Francisco LinuxWorld next week. For those of you who can remember, we were there last year and won a couple of awards, but did so under a different name.
Together with the award-winning 1.0 series, we will be previewing the upcoming Joomla! 1.5 Beta, which is evidence of the maturity the project has attained in a short time. Lead developer Johan Janssens, who will be attending, said the forthcoming release marks a significant milestone.
"Our baby Joomla! was born nearly 12-months ago, cut his teeth with our first release and now the toddler is gaining confidence," he quipped. "You may laugh at the metaphor but the amount of work put into Joomla! by our teams has seen us endure great difficulties and reap the rewards of a paradigm shift in thinking," he said.
Subcategories
The latest news from the Joomla Team
Announcements & News related to Official Joomla! project Releases