Joomla! News
Details

Category: General News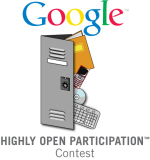 Would you like a chance to win a trip to the Googleplex, the California headquarters of Google in the heart of the world-famous Silicon Valley, and help Joomla! at the same time?
Well, following on from the success of the Google Summer of Code program, Google has today launched a contest for pre-university students (high school and secondary school students) aimed at encouraging young people to participate in open source projects. Joomla! is proud to have been invited to join with nine other open source organisations for this pilot program which will run until early February 2008.
The Google Highly Open Participation Contest, or GHOP for short, is intended to offer an opportunity to students who may want to get into open source but don't know where to start. By working through a number of pre-defined tasks, contestants will be able to engage with the open source community and get involved at a far earlier time than they might otherwise think they could. At the same time, Joomla! gets the benefit of additional contributions to the project.
Read more: Joomla! invited to join Google Highly Open Participation Contest
Details

Category: General News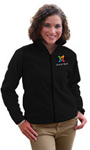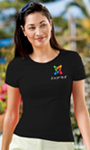 The Joomla! Shop has expanded its merchandise and presents to you three new products sure to please the ladies: T-shirts, Tank tops and Fleece Jackets. Yes, this sensational moment is reserve for ladies only unless the men wish to take this opportunity to give an excellent gift to their love ones.
Our customized products promote Joomla! in a bright but professional way. All profits from our online shop go back into the project to further its not-for-profit aims and ambitions.
Look cool and support Joomla! at the same time!
Details

Category: General News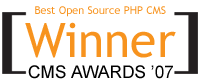 Packt Publishing today announced Joomla! as the winner of "Best PHP Open Source Content Management System" for 2007.
The award marks the second time Joomla! has won a prestigious Packt prize. Runners up were Drupal, followed by e107.
Subcategories
The latest news from the Joomla Team
Announcements & News related to Official Joomla! project Releases