Joomla! News
Details

Category: General News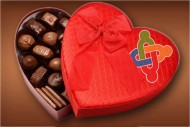 The February issue of the Joomla Community Magazine is here! Our stories this month:
Editors Introduction
We Heart Joomla!, by Alice Grevet
Feature Stories
Going to Production with Joomla!, by Marek Husek
Have You Browsed Joomla.org Lately?, by Helvecio da Silva
Interview: Humble Bundles – Behind the Bargain, by Dianne Henning
Events
Presenting... JUG Rio!, by Jennifer Gress
JoomlaDay Events in February and March 2013, by Jacques Rentzke
Help Wanted
The Joomla! Project Wants You - February 2013, by Paul Orwig
Project News
More Hands on Deck, by Alice Grevet
Business Matters
Marketing & Dating Meet at the Thank You Economy, by Luke Summerfield
Designers
Top 10 Fashion VirtueMart Templates, by Iryna
Beyond Responsive Design: Scalable User Experiences, by Alan Langford
Administrators
What You Probably Never Knew Lurked Within Google Analytics!, by Ruth Cheesley
Developers
20 Suggestions for Better Style and Script Designing in Joomla! Extensions (Part 2), by Soheil Novinfard
Joomla! 3.0 Extension Development Series: Beginning Development, by David Hurley
Sitebuilders
Training Your Clients with Video - Part 2, by Rod Martin
Tutorial: Taking Advantage of Alternative Layouts for Articles and Modules, by Scott Greenwald
The Joomla! Haikus
Post your Haikus for February, by Dianne Henning
International Stories
Browse the international articles submitted this month.
In our next issue
We want to publish your Joomla! story in the next JCM issue! So take a look at our Author Resources content to get a better idea of what we are looking for, and then register to become a JCM author and submit your Joomla! story!
Subcategories
The latest news from the Joomla Team
Announcements & News related to Official Joomla! project Releases