Joomla! News
Details

Category: General News
Google has confirmed it will sponsor the Google Summer of Code 2007, and Joomla! will again be participating in this great event. Last year we had six sponsored projects, guided by twelve mentors and six students working on research for the future Joomla! 2.0. This year we will try to be even more productive and more successful than we were in 2006.

For Joomla!, the Summer of Code brings several benefits. It helps bring fresh ideas and talents together in a co-ordinated way and has provided the project with four new development workgroup members who are now active in creating Joomla! 1.5. We expect one of these students to be a mentor within the 2007 Summer of Code Campaign.
Details

Category: General News
Today Drupal announced the release of the long awaited Drupal 5.0, appropriately and symbolically released on Drupal's sixth birthday. We would like to offer our congratulations to the guys and gals making Drupal what it is and to let them know that we are enjoying the celebration as well.
We have met many of the Drupal contributors at various events and consider them friends with common goals. Our two projects are often compared, and there is nothing wrong with comparison... but make no mistake of it, we are all on the same side working to enable people... because we both believe that open source matters.
So from one open source project to another:
Congratulations!!
Details

Category: General News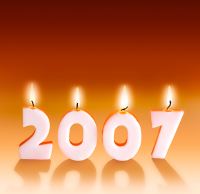 On the eve of New Year, imagine that Joomla! was a person.
If Joomla! was a person, its oxygen would be the myriad of active fingers on keyboards logging into the Joomla! website, the forums, extensions and developer zone, attending Joomla! Days and checking out hosts of community and fan sites.
Yes, yes, Joomla! has won awards. Many. But the accolades are not oxygen.
Joomla! feels great joy because the past 12 months has seen a mature ecosystem evolve; where people from all walks of life, all races and religions are equal. Equal to share, equal to learn, and equal to participate in an online community. And with those skills, everybody is able to craft a website, start a business, perhaps even ensure financial freedom for their family!
Subcategories
The latest news from the Joomla Team
Announcements & News related to Official Joomla! project Releases