Joomla! News
Details

Category: General News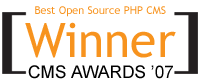 Packt Publishing today announced Joomla! as the winner of "Best PHP Open Source Content Management System" for 2007.
The award marks the second time Joomla! has won a prestigious Packt prize. Runners up were Drupal, followed by e107.
Details

Category: General News

Joomla!, for the second time running, has been nominated as a finalist for the 2007 PacktPub Open Source CMS Awards.
Our project has successfully made it to the final five of in two categories of the prestigious PacktPub open source CMS (content management systems) awards. This year Joomla! is nominated in the Overall Winner and Best PHP Open Source CMS. We were fortunate enough to win the top prize last year.
Details

Category: General News
Joomla! will have a presence at the upcoming Ontario Linux Fest Conference.
The Fest begins with a Welcome Party Friday evening October 12th. On Saturday, October 13th will be all day conferences and presentations as well as the corporate & dot org exhibitors. Saturday evening will be the Reception as well as the draw for door prizes. Joomla! will be represented by Jason Kendall, Alan Langford and Joe Sonne.
Read more: Joomla! at Ontario Linux Fest Conference, October 12 & 13, 2007
Subcategories
The latest news from the Joomla Team
Announcements & News related to Official Joomla! project Releases