Joomla! News
Details

Category: Project Release News
Joomla! 1.5 RC2 [codename: Endeleo] is now available for download. What better way to celebrate our 2nd Birthday! We chose Endeleo as the codename for this release candidate as it is Swahili for 'development, growth, progress ... improvement'. Highly appropriate we feel.
It is roughly five weeks after the RC1 release and we have made major improvements in certain areas of the 1.5 codebase. Time to share another RC with the community. Some improvements and areas of changes are listed below:
Router refactoring solving a range of bugs
Media Manager refactoring, moving this to MVC standards
Updated scripts (version); MooTools, tinyMCE, Xstandard
Core template improvements
Template language installer support
... and of course a lot more
Read more: Joomla! 1.5 RC2: Endeleo - Happy Birthday Joomla!
Details

Category: General News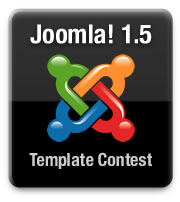 With the release of the eagerly anticipated Joomla! 1.5, the time has come to allow one of the skilled designers in our midst to become apart of the success that will be Joomla! 1.5. The Joomla! 1.5 Template Contest is open to anyone with a passion for design and a desire to have their design seen and used by millions of people globally as theydownload and install the stable release of Joomla! 1.5.
Contest Prizes
The five finalists will each receive a Joomla! prize package that includes a Joomla! laptop bag, Joomla! shirt, Joomla! hat, and a Joomla! 256MB USB memory stick.
The grand prize winner will have his/her template added as the third template to the Joomla! 1.5 core distribution to be downloaded in every Joomla! 1.5 package.
Details

Category: General News
Do you want to look sensational? Joomla! today announces the launch of two newproducts with the Joomla! embroidered logo in its official merchandise range.
You can now proudly show your Joomla! colours with an official Joomla! Cap, ourJoomla! Laptop Bag, or both! We hope these new products will provideJoomla! fans with a strong visual statement to demonstrate their support. Allprofits from our online shop go back into the project to further itsnot-for-profit aims and ambitions. Look cool and support Joomla! at thesame time.
Subcategories
The latest news from the Joomla Team
Announcements & News related to Official Joomla! project Releases