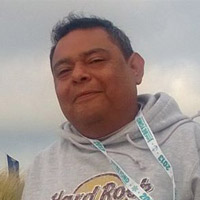 Location: Iquique, Chile, South America
Timezone: GMT -3
Position: Community Leadership Team
URL: www.joomla.cl
Born and living in Iquique, Guillermo meet Web Development early 2000's during his studies at Bussines Administration. Related with Joomla since 2007, when he create he's first Joomla website.

The Joomla community involvement began with the co-fundation of the local community, Joomla.cl. In that community he become administrator of the help forum and editor of the community blog. Then he start to volunteer in the Joomla Community Magazine in which he manage the International Stories section, and prepare all non-English articles for launch. He also lead the Spanish authors and translators group for the magazine, which currently produces half of the total articles in each new issue. He's working with the multilingual team to prepare the magazine for a better in-language experience, and to make it easier to translate articles. The JCM is almost ready to launch the Spanish version of the JCM, and we know that many other languages will follow!

In Social Networks you will find him always in Facebook, from that channel he's doing the effort to keep the spanish speakers Joomla community more involved in the Joomla! project, sharing news, events and bringing suport throught many Joomla related groups.